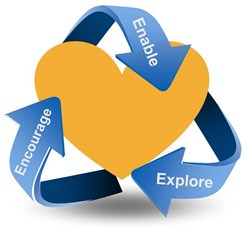 Dallas, TX (PRWEB) August 18, 2013
To take the same action and expect different results is said to be the definition of insanity. And yet the hardest thing every organization faces is getting employees to embrace change. So that means they're all crazy? Or are they all lazy? Maybe neither. Jim Case Carlton's Training has discovered it's just one of those human tendencies that tends to define a company unless changed.
Joel Barker has been an expert on change for over two decades. His program The New Business of Paradigms has been reproduced in countless languages to meet the demands of organizations around the world. What he does is study businesses and how their adaptation to change manifests in the success of companies again and again.
So why do companies resist change so much if they know it will lead to their success? There always seems to be hope that the current system will work itself out and be the true path. And of course there is the natural fear that the new change will be worse than the current system. But Barker stresses time and time again that these small changes are not only what leads to success for one organization but for the economy as a whole.
The Power of Vision Joel Barker program focuses on change through the eyes of the future. The fact that business leaders have used this power of the future to navigate the paths of their companies is nothing new. What is new is Barker's assessment that this power of vision is also the mechanism used for the strategy of change.
Any Joel Barker video has some element of change to it. The key in any system is the belief in which the employees hold within it. If the goal or vision of that future is not held as a firm belief then the goal is minimized and destroyed. The key to implementing a change strategy is to clearly discuss not just the change but the results that will be brought to the company in the future.
Jim Case Carlton's Training focuses its energy on creating opportunities for organizations to grow. Change management is certainly one element of creating success in companies. To view the online previews of the programs discussed here or learn more about this company click here on their site at Jim Case Carlton's Training.