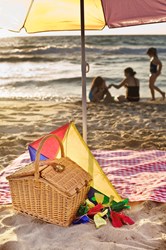 Carmel-by-the-sea, CA (PRWEB) August 01, 2013
There's no better season than fall in Carmel-by-the-Sea, and with the best weather months just ahead, many visitors to the village will want to spend the day at Carmel Beach or enjoy a drive south on stunning Highway 1 to Big Sur or Point Lobos State Reserve. For those guests looking for leisurely lunches on the go, a number of the village's lodging properties offer convenient, deluxe picnic baskets that promise unforgettable outdoor eating experiences.

It's never been easier to get to Carmel. Monterey Regional Airport (MRY), a 10-minute drive from downtown Carmel, has recently added direct flights to and from San Diego. Other direct flight routes include San Francisco, Los Angeles, Las Vegas, Denver, and Phoenix.
The newly formed Carmel Hospitality Improvement District – a joint organization of the City of Carmel, Carmel Chamber of Commerce and Carmel Innkeepers Association –is working to promote the village's abundant attractions, events, and stunning seaside location. From its incomparable white-sand beach to many choices of distinctive meeting venues and lodging properties, Carmel-by-the-Sea has it all. To help you plan your next meeting in Carmel-by-the-Sea, call (831) 704-6317 or visit http://www.carmelcalifornia.com (or http://www.meetingincarmel.com).
# # #