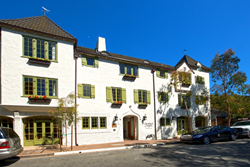 CARMEL-BY-THE-SEA, Calif. (PRWEB) March 27, 2014
With its array of first-class restaurants, acclaimed executive chefs and award winning wineries, as well as available tours, classes and cooking vacations for visitors, Carmel-by-the-Sea is clearly emerging as one of the West Coast's top destinations for food and wine discoveries. Now poised to host the inaugural Relais & Chateaux GourmetFest 2014, a prestigious food and wine festival set for March 27-30, the village will bask in the international culinary spotlight.
Beyond GourmetFest, which will feature the talents of Relais & Chateaux chefs from around the world, Carmel-by-the-Sea also is a regular host to other popular culinary offerings such as Carmel Wine Walk By-the-Sea and Carmel Food Tours, as well as Taste of Carmel, held annually in early October. Here is a closer look at some of the regularly scheduled tours and classes:
-Carmel Wine Walk By-the-Sea is a self-paced, self-guided stroll to a dozen of the village tasting rooms, which all are within a few blocks of each other. Participants have the opportunity to sample some of the region's premium wines, as well as meet the winemakers. As an added bonus, participating restaurants in downtown Carmel waive corkage on bottles purchased at any of the Wine Walk tasting rooms. For more information, call 831.624.2522 or visit carmelcalifornia.com
-Carmel Food Tours, founded two years ago as the first guided culinary and wine walking tours in the village, ensures guests enjoy unique, "off-the-beaten-path" food and cultural experiences. The three-hour tour offers food tastings from seven distinct eateries and specialty shops, coupled with insightful presentations from local guides of Carmel's cultural, historical and architectural highlights. For more information, call 831.216.8161 or visit carmelfoodtour.com.
-Group Cooking Classes designed for 10 guests are offered by L'Auberge Carmel (Monte Verde Street and 7th Avenue) and its Executive Chef Justin Cogley, who was named Food & Wine magazine's "Best New Chef for 2013." Cogley, who joined L'Auberge Carmel after opening the Elysian Hotel's new kitchen in Chicago, is a Relais & Chateaux Grand Chef who will participate in four different events at GourmetFest. Pastry Cooking Classes with L'Auberge's Executive Pastry Chef Ron Mendoza also are offered. For more information, call 831.624.8578 or visit auberginecarmel.com/classes.html.
-Art of Food Cooking Classes, from Edible Destinations by Epitourean, offers several intimately designed cooking demonstrations, unique lectures and private classes in Carmel. For more information, call 800.390.3292.
The year's two major food-and-wine events in Carmel-by-the-Sea are:
-Relais & Chateaux GourmetFest 2014 will be held over four days beginning Thursday, March 27. The Welcome Party is scheduled that evening from 6 to 9 p.m. at the Sunset Cultural Center. A who's-who list of top national and international chefs will be on hand. For more information, call 831.622.5907 or visit gourmetfest.carmel.
-Taste of Carmel, presented by the Carmel Chamber of Commerce in the Carmel Mission Courtyard, is a premier showcase of food and wine on the California Central Coast. Several of Carmel's most popular restaurants participate, and are joined by more than a dozen of the area wineries. For more information, call 831.624.2522 or visit tasteofcarmel.com.
It's never been easier to get to Carmel. Monterey Regional Airport (MRY), a 10-minute drive from downtown Carmel, has recently added direct flights to and from San Diego. Other direct flight routes include San Francisco, Los Angeles, Las Vegas, Denver, and Phoenix.
The newly formed Carmel Hospitality Improvement District – a joint organization of the City of Carmel, Carmel Chamber of Commerce and Carmel Innkeepers Association – is working to promote the village's abundant attractions, events, and stunning seaside location. From its incomparable white-sand beach to many choices of distinctive meeting venues and lodging properties, Carmel-by-the-Sea has it all. For more information, visit http://www.carmelcalifornia.com.
# # #