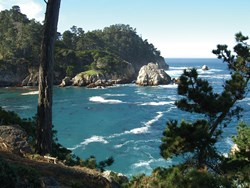 Carmel-by-the-Sea, CA (PRWEB) September 30, 2013
There are many reasons why visitors flock to the Monterey Peninsula throughout the year, but for hiking and walking enthusiasts there is no better time than the fall season. The weather is ideal, trail conditions are perfect, and the route options – whether Carmel, Carmel Valley, Big Sur, Pebble Beach or Monterey – are abundant.
All these factors are why three lodging properties in Carmel-by-the-Sea have created specific hiking/walking packages to cater to visitors with a passion to explore the area on foot. Here's a closer look:

Tradewinds Carmel, Mission at Third Avenue. The Tradewinds' "Hike Big Sur and Carmel Valley" three-night, two-person package takes advantage of two of the area's premier hiking destinations. After enjoying the property's continental breakfast buffet, guests will meet with hotel staff for an outline of that day's hike. The first day features a trip to Big Sur, the second day to Carmel Valley; and the third day following checkout to Point Lobos State Reserve. Other package highlights: two $50 dining certificates to recommended restaurants in Big Sur and Carmel Valley for lunch or early dinner; two 60-minute, in-room massages; champagne or wine; picnic lunch for two on day of checkout; and deluxe lodging accommodations with a fireplace. Rates start at $1,445. Tradewinds Carmel also offers a "Walk Carmel" package, which includes 3- to 5-mile hikes around the village. Rates start at $595 per night for two people. Phone: 831.624.2776. Website: http://www.tradewindscarmel.com.
La Playa Carmel, Camino Real at Eighth Avenue. The historic Carmel property offers a hiking package that includes morning breakfast, hiking trail descriptions and directions, maps, lunch to take on the trail, sundries kit, and wine and cheese upon return in the afternoon. When guests select Point Lobos State Reserve as their day's destination, the hotel will provide round-trip transportation if requested. Call for rates. Phone: 800.582.8900 or 831.293.6100. Website: http://www.laplayahotel.com.
Carmel Country Inn, Dolores at Third Avenue. Guests will be able to spend the day exploring some of the many nearby unspoiled nature and hiking trails in region. The package includes an insulated picnic basket; lined blanket; copy of the book, "Day Hikes Around Monterey & Carmel" with maps and trails; picnic lunch for two persons. Call for rates. Phone: 831.625.3263. Website: http://www.carmelcountryinn.com.
Among the area's most popular hiking areas for visitors to Carmel-by-the-Sea:

Andrew Molera State Park, 26 miles south of Carmel on Highway 1, Big Sur.
Carmel Beach & Walkway, Scenic Road.
Garland Ranch Regional Park, 8 miles east of Carmel on Carmel Valley Road, Carmel Valley.
Garrapata State Park, 10 miles south of Carmel on Highway 1, Carmel Valley.
Mission Trails Park, off Rio Road on Mountain View Avenue just east of the Carmel Mission.
Point Lobos State Reserve, 2 miles south of Carmel on Highway 1.
17-Mile Drive, Pebble Beach. Enter at gate on San Antonio Avenue.
Shoreline Recreation Trail, begins at Fisherman's Wharf in Monterey and runs to Lovers Point Park in Pacific Grove.
The newly formed Carmel Hospitality Improvement District – a joint organization of the City of Carmel, Carmel Chamber of Commerce and Carmel Innkeepers Association – is working to promote the village's abundant attractions, events, and stunning seaside location. From its incomparable white-sand beach to many choices of distinctive meeting venues and lodging properties, Carmel-by-the-Sea has it all. For more information, visit http://www.carmelcalifornia.com.