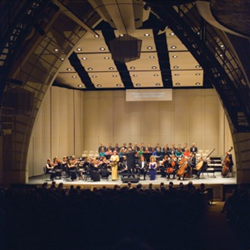 CARMEL-BY-THE-SEA, Calif. (PRWEB) June 26, 2014
Since the turn of the century, Carmel-by-the-Sea has been a haven for artists and a refuge for writers and intellectuals who shaped this unique artist colony. Beginning in July, when Carmel's comfortably cool summer temperatures encourage gazing and grazing, the village shows off its eclectic and versatile personality with a world-class, non-stop lineup of theatre performances, music festivals, car events, art shows and more.
The Carmel Bach Festival returns for a 77th season and continues to draw performers and spectators from around the globe. "The Carmel Bach Festival offers so many pleasures, it is almost impossible to keep up with them," Barbara Rose Schuler wrote in The Monterey County Herald of last year's lineup. This year, the festival runs July 19 to Aug. 2 with more than 45 events. Visit http://www.bachfestival.org or call 831.624.1521 for more information or to purchase tickets.
Locals know the Pacific Repertory Theatre simply as Pac Rep, but call it what you will these live performances in Carmel's Golden Bough Theatre provide further evidence that the village is truly a world's stage for summer. Pac Rep will stage "Hello Broadway! Tribute Concert" from July 3-27, followed by "Shrek The Musical" from Aug. 15 to Sept. 28. Visit http://www.pacrep.org or call 831.622.0100 for schedules and ticket information.
Visitors to Carmel in the month of August are all too familiar that some of the coolest cars are tooling around town. There is no shortage of events for car buffs this year beginning with the Carmel-by-the-Sea Concours on the Avenue (Tuesday, Aug. 12), where Carmel's Ocean Avenue is closed to traffic and 18 blocks of downtown will be filled with more than 175 collector cars. In short order follows the Pebble Beach Concours Tour d'Elegance (Aug. 14), Rolex Monterey Motorsports Reunion (Aug. 14-17), The Quail – A Motorsports Gathering (Aug. 15), Pacific Grove Concours Auto Rally (Aug. 15), Concorso Italiana (Aug. 16), and capped by the event that got it all started, the Pebble Beach Concours d'Elegance (Aug. 17).
Live music, gourmet appetizers from Carmel's top restaurants and regional wines all come together from 5 to 7 p.m. on 10 consecutive Fridays beginning July 25 at the Carmel Plaza's "Summer Live Music Series." This year's opening night features music from Nu-Horizon, appetizers from Grasing's Restaurant and wine from Wrath Wines. The series is held in the Plaza's garden courtyard, Ocean Avenue and Mission Street. Visit http://www.carmelplaza.com/events for the complete lineup.
Two major oil painting shows are on tap this summer at Mountainsong Galleries in downtown Carmel. The "Oil Painters of America Masters Show" is set for Aug. 1-25, while the "Oil Painters of America Western Regional Show" runs from Aug. 30 to Sept. 30. Visit http://www.mountainsonggalleries.com for more information.
The village's incomparable white-sand beach is the dramatic backdrop for the Carmel Sandcastle Contest, held annually in early September. Castle builders will kick things off at 8 a.m., with judging from noon to 2 p.m. The date for this year's 54th annual event will be confirmed later when tide reports are available. The 2013 contest was held on the third Sunday; the 2012 contest took place on the second Sunday.
The Carmel Mission Fiesta, another popular event for locals and visitors, will mark its 50th year in 2014. Located on the beautiful grounds of the Carmel Mission, the Fiesta – scheduled from 11 a.m. to 6 p.m. on Sunday, Sept. 28 – will feature a barbecue, drinks, live music, arts and crafts, and games for children.
It's never been easier to get to Carmel. Monterey Regional Airport (MRY), a 10-minute drive from downtown Carmel, has recently added direct flights to and from San Diego. Other direct flight routes include San Francisco, Los Angeles, Las Vegas, Denver, and Phoenix.
The Carmel Hospitality Improvement District – a joint organization of the City of Carmel, Carmel Chamber of Commerce and Carmel Innkeepers Association – is working to promote the village's abundant attractions, events, and stunning seaside location. From its incomparable white-sand beach to many choices of distinctive meeting venues and lodging properties, Carmel-by-the-Sea has it all. For more information, visit http://www.carmelcalifornia.com.
# # #