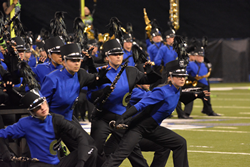 We are the recipients of amazing support both from our administration and community and this provides an opportunity for us to give back to the music community as a whole.
INDIANAPOLIS, Ind. (PRWEB) November 11, 2015
Marching Beyond Halftime documentary executive producer, L. Scott McCormick announced that the Carmel (Ind.) High School Band program has been selected to appear in the forthcoming Sara Flatow documentary feature film. Marching Beyond Halftime is a documentary feature film being created to show the benefits of music education, in particular band, in our schools. It is the nation's first wide release documentary on this subject.
Chris Kreke, Carmel Marching Band Director said: "We are very excited to be a part of the Marching Beyond Halftime project. We are the recipients of amazing support both from our administration and community and this provides an opportunity for us to give back to the music community as a whole. We recognize that this support may not be the case in every program around the country and if we can help advocate for the power of the arts and music education as part of every child's schooling, we are all in!"
The Marching Greyhounds are four-time Indiana State Student Music Association (ISSMA) State champions (1990, 2001, 2002, 2012), two-time Bands of America (BOA) Grand National champions (2005, 2012), 16-time Bands of America regional champions, and has been a BOA Grand National finalist for 19 straight years. The band has toured both nationally and internationally multiple times, including performances in the 2011 Macy's Thanksgiving parade and the 2014 Tournament of Roses parade.
In addition, the NAMM Foundation named the Carmel Clay Schools one of the nation's "Best Communities for Music Education" in 2015.
"It is vital that the documentary Marching Beyond Halftime captures the finest examples of America's leading public school music programs," said McCormick. "Our goal is to showcase not only outstanding high school band programs in the United States, but also to feature alumni from all walks of life who have benefitted from being in band. We have worked with the Lake Brantley High School band program from Altamonte Springs, Fla. this past year and are now thrilled to be working with the Carmel (Ind.) High School Band."
The documentary's production team is pleased to announce the Carmel High School Band's selection for this big screen project and believes it represents the musical excellence we are seeking."
There are currently 525 students served by the Carmel Bands program, which includes six concert bands, four jazz bands, three winter guards and a marching band of 272 members.
About Scott McCormick
Music education industry executive and founder of The National Association of Music Parents (AMP), L. Scott McCormick, has joined the production team of the documentary feature, Marching Beyond Halftime, as executive producer. The National Association of Music Parents Inc. was established in 2011. Led by McCormick, the former president and CEO of both Music for All and Bands of America, AMP was formed in response to the increasing need for a national parental voice in support of music and the arts as an integral discipline within the education system in America. In addition, AMP addresses the very real need to inform parents of the benefits that music participation provides for their children.
About Sara Flatow
Sara Flatow lives in Los Angeles and works as a producer in Hollywood. For over 20 years, she has collaborated with some of the most prominent actors, directors, and producers to create short form documentaries and behind-the-scenes content for many popular shows including: Grey's Anatomy, Desperate Housewives, Scandal, and How To Get Away With Murder.
She is a graduate of the University of Florida where she was in the marching band, symphonic band and wind ensemble. She is also a member of Tau Beta Sigma, Who's Who in Music and the Producers Guild of America. For more about Flatow, the filmmaker, and to see samples of her work, please visit http://www.saraflatow.com.