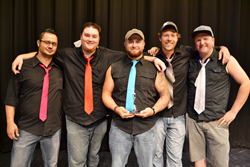 "It's not destiny or serendipitous grand design, it's hard work paying off."
Idaho Falls, Idaho (PRWEB) August 27, 2015
Her Last Breath Band took the stage for the final Carmus Jamboree 2015 Band Jam Battle Competition with only acoustical instruments, including a box used for drums, whereas the other competing bands used electric instruments. Their strategy worked, as well as their talent. The band will complete their latest CD in October 2015. Her Last Breath Facebook Page.
Her Last Breath Band starts their webpage with this statement: "It's not destiny or serendipitous grand design, it's hard work paying off." Pulling together members from 4 successful bands in 4 different genres, Her Last Breath is a collection of dedicated musicians poised for big achievements and driven to produce songs that stand the test of time. Bonded by the motto "Love shouldn't hurt" the band has adopted domestic violence awareness and prevention as their core cause. With heavy focus being placed on putting on a great live show, and already working with national touring bands P.O.D, Royal Bliss, Carolina Reapers, and Buried as Thieves, Her Last Breath is a rock band that's ready to bring their music to the masses.
Individual Members Bios:
Cory Wolfe (Honey Badger) – Bass Guitar
Picking up the bass guitar at age 12, Cory Wolfe has always attached with music as a healthy vent and an association with other humans… "singing and playing instruments is the best way I know to connect with my peeps". He loves all kinds of music and takes influence from each genre, though rock is his favorite to perform.
Michael Rolfe (Other Guy) – Lead/Rhythm Guitar
Michael Rolfe has been playing guitar for 14 years with a career spanning across 3 bands. His first band was with Todd Clark and Cory Wolfe (also of Her Last Breath) so this group is a bit of a "homecoming" for these members. Michael is also currently a member of Break The Broken (along with Cory) - the top Metal band in Eastern Idaho.
Todd Clark (Phred/New Todd) – Lead/Rhythm Guitar
Like the other members of Her Last Breath, Todd Clark has been playing guitar since before his teenage years. He played other instruments before but says the guitar "was a life changing experience". Jamming with Michael and Cory in his mom's garage as teenagers is where the band lifestyle took root. After a long stint in Ohio, when the opportunity to join a group and that included his childhood bandmates he couldn't pass it up.
Shon Fitch (Shonzi) – Drums
Playing drums at the age of 16, Shon Fitch soon discovered that "playing music gets me away from the rest of the world." He says that playing music with his "brothers" is one of the best things in the world and enjoys performing whether it's for 5 people or 5,000. He gives his all when writing/playing/performing and it comes through every time he's behind a kit.
Todd Thompson (Toddlebear) – Vocal
The son of a world famous blues/jazz guitarist, Todd was playing the Bluegrass circuits of Alaska at the age of 12. After a pair of US tours as a country musician and several attempts at a bullriding career, he came to realize that the rock genre had the energy and stage show that he longed for. After several years of searching for the right blend of talent, drive, and personality, he finally found the right group in Her Last Breath.