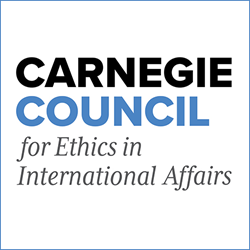 Carnegie Council is a forum for the world's leading thinkers, experts, and decision makers. It has earned a reputation as an honest, objective voice for ethics in international affairs.
NEW YORK (PRWEB) November 28, 2018
Carnegie Council for Ethics in International Affairs announces its December 2018 current affairs programs in New York City.
To attend in person, please RSVP. Go to the online calendar: https://www.carnegiecouncil.org/calendar.
Press passes and student tickets are available. Please contact events(at)cceia.org.
Events take place at:
Carnegie Council
170 East 64 Street, New York, NY 10065.
Watch them as live webcasts here: https://www.carnegiecouncil.org/live.
Videos, transcripts, and audios are available online soon after events take place.
DECEMBER EVENTS
Dec 03, 8:00-9:15 AM EST
Breaking News: The Remaking of Journalism and Why It Matters Now
Alan Rusbridger, Oxford University; former editor-in-chief of "The Guardian"
Dec 04, 8:00-10:00 AM EST
Control and Responsible Innovation of Artificial Intelligence
SEATING LIMITED.
Francesca Rossi, IBM
Stuart Russell, University of California, Berkeley
Bart Selman, Cornell University
Wendell Wallach, The Hastings Center and Yale Interdisciplinary Center for Bioethics
David Roscoe (Moderator), The Hastings Center
Dec 10, 4:00-7:30 PM EST
Handwriting the Universal Declaration of Human Rights (Community Event for the 70th Anniversary of the Declaration)
Morgan O'Hara, Artist
Dec 12, 8:00-9:15 AM EST
The Korean Peninsula: One of America's Greatest Foreign Policy Challenges
Christopher Hill, University of Denver, former U.S. ambassador to the Republic of Korea, Iraq, Poland, and the Republic of Macedonia
ABOUT CARNEGIE COUNCIL
Founded by Andrew Carnegie in 1914, Carnegie Council for Ethics in International Affairs is an educational, nonprofit, nonpartisan organization that produces lectures, publications, and multimedia materials on the ethical challenges of living in a globalized world. Visit https://www.carnegiecouncil.org/