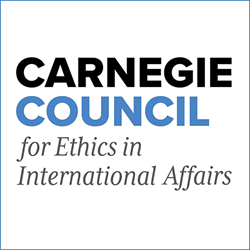 Carnegie Council is a forum for the world's leading thinkers, experts, and decision makers. The Council's mission is to enlarge the audience for the simple but powerful message that ethics matter, regardless of place, origin, or belief.
(PRWEB) November 02, 2018
Carnegie Council for Ethics in International Affairs announces its November 2018 current affairs programs in New York City.
To attend in person, please RSVP. Go to the online calendar: https://www.carnegiecouncil.org/calendar.
Press passes and student tickets are available. Please contact events@cceia.org.
Events take place at:
Carnegie Council
170 East 64 Street, New York, NY 10065.
Watch them as live webcasts here: https://www.carnegiecouncil.org/live.
Videos, transcripts, and audios are available online soon after events take place.
NOVEMBER EVENTS
Nov 08, 8:00-9:15 AM EST
Enemy of the People: Trump's War on the Press, the New McCarthyism, and the Threat to American Democracy
Marvin Kalb
The Brookings Institution
Nov13, 12:00-2:00 PM EST
The Living Legacy of the First World War
Invitation only. Please watch the live webcast.
Katherine Akey – "Collective Memory and the Hidden Photographic Narratives of World War I"
Christopher Capozzola - "Merchants of Death? The Politics of Defense Contracting, Then and Now"
Tanisha Fazal – "The Politics and Medicine of Treating Post-Traumatic Stress (PTS) Since World War I"
Seiko Mimaki – "World War I as a Key Moment in the History of Humanitarianism: Jane Addams and Her Cosmopolitan Ethics"
Charles Sorrie - "The Legacy of America Press Censorship during the First World War."
Nov 15, 6:00-7:30 PM EST
The Jungle Grows Back: America and Our Imperiled World
Robert Kagan
The Brookings Institution
ABOUT CARNEGIE COUNCIL
Founded by Andrew Carnegie in 1914, Carnegie Council for Ethics in International Affairs is an educational, nonprofit, nonpartisan organization that produces lectures, publications, and multimedia materials on the ethical challenges of living in a globalized world. Go to https://www.carnegiecouncil.org/.