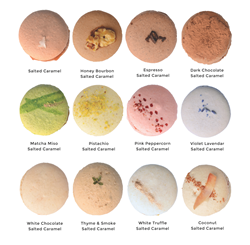 "Beating industry stalwarts in blind tastings really gave us confidence that Carcosa's macarons were ready for the world. The feedback has been fantastic, which is what this is all about, creating something people love."
(PRWEB) January 13, 2015
Introducing Carcosa Caramelier, the salted caramel specialist. Carcosa explores popular confection genres to create perfect salted caramel variations of sweets people love.
In 2014, Carcosa released an exquisite macaron collection. Carcosa macarons come in 12 flavors, only one of which can be found anywhere else. The original Carcosa salted caramel macaron has beaten peers' salted caramel macarons in every blind tasting so far conducted. Each Carcosa macaron is handmade in small batches in Brooklyn, New York. Every macaron is made using the finest fair-trade ingredients. This attention to quality means the macarons are organic, gluten free, and non-GMO.
Carcosa's master caramelier is Grace McCabe, who has been experimenting with salted caramel obsessively since she was 7 years old. "Before Carcosa released the macarons, I looked at dozens of flavor combinations, trying different ingredients until I felt the macaron range was truly remarkable. My aim is to create salted caramel treats that not only delight the pallet but surprise it too." Needless to say Grace's salted caramel recipe is the secret at the heart of Carcosa's products.
Since launching in late 2014, Carcosa has featured in exclusive pop-up events in New York, and will continue a busy events schedule across the USA in 2015. News about events can be found on Carcosa's Facebook page. In 2015, Carcosa promises ice creams, sorbet, gelato, chocolates, caramels, and Carcosa's take on the cupcake. Exact flavors are still under wraps but if the macaron range is anything to go by, salted caramel aficionados are going to have a very good year!
Carcosa currently ships coast to coast in the United States, with same day delivery available in New York. It's easy to order online at http://www.carcosa.com