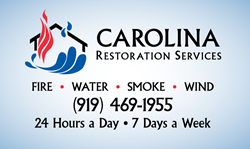 Winning this award means that our employees feel respected, valued and appreciated, which has always been essential to us.
Morrisville, NC (PRWEB) January 10, 2017
Carolina Restoration Services, which since 1997 has successfully assisted tens of thousands of residential and commercial clients throughout Central North Carolina with comprehensive, certified and start-to-finish insurance reconstruction solutions, proudly announced today that it has been named among the "Best Places to Work" in 2016 by the Triangle Business Journal.
Like other recipients of the peer-nominated award, Carolina Restoration Services was selected for the distinction based on the results of an independent employee survey conducted by Quantum Research. In addition, to remain eligible for the honor the company had to meet a minimal threshold of employee participation throughout the evaluation process.
"Employees are the lifeblood of any company," stated Triangle Business Journal's Publisher Jason Christie in a news release. "[Award-winners] have demonstrated the belief that happy employees produce successful and thriving businesses."
"It's an honor to be recognized by the Triangle Business Journal as one of the Best Places to Work in the Triangle," commented Carolina Restoration Service's Vice President Travis Bailey. "We feel that the success of any company is directly related to the quality of its people. Winning this award means that our employees feel respected, valued and appreciated, which has always been essential to us. It's an inspiring achievement to know that our employees take pride in all that we accomplish together as a team. They are our most important and valuable asset, and a key reason why we're celebrating our 20th anniversary this year."
This is not the first time that Carolina Restoration Services has been called to the winner's circle. The company has been named to the "Triangle's 50 Fastest-Growing Companies" list three times, and has also won the "Family Business" award from the Triangle Business Journal, and "Employer of the Year" by the Town of Cary Chamber of Commerce.
About Carolina Restoration Services
Based in Morrisville, NC, Carolina Restoration Services is the largest family-owned and operated full-service disaster restoration firm in North Carolina. The company assists residential and commercial property owners experiencing damage from fire, smoke, water or storm-related events through a full range of solutions, including 24-hour emergency response. Learn more at http://www.carolinarestorationservices.com.