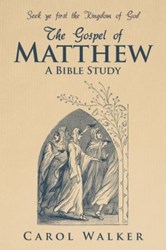 "People who already have Christian faith can deepen their faith by increasing their understanding of Scripture. This is a life-long process and has no end."
Luverne, MN (PRWEB) August 20, 2013
In her new book, "The Gospel of Matthew" (published by CrossBooks), author Carol Walker presents an in-depth exploration of the first book of the New Testament, offering a collection of lessons based on the biblical text.
Walker offers a comprehensive and straightforward study of all 28 chapters of the Gospel of Matthew. She organizes the information into 34 lessons, providing historical and cultural background information as well as questions and answers to generate discussion. Walker delves deeply into Jesus' life and teachings in the book, broadening readers' understanding of the Scripture and strengthening their faith.
An excerpt from "The Gospel of Matthew":
"Much of Scripture is surrounded by mystery. Some facts are knowable and others must be conjecture. For Christians what is important is that Jesus came to save us and all of mankind from our sins. We can only read and marvel and wonder not to mention give thanks to God when we read what Matthew said about the birth of our Savior."
Walker hopes her book helps readers understand the Bible better, especially those readers who read Scripture in study groups. "Knowing the story of the life of Jesus, his ministry, his death and resurrection can change people's lives," Walker says. "People who already have Christian faith can deepen their faith by increasing their understanding of Scripture. This is a life-long process and has no end."
"The Gospel of Matthew"
By Carol Walker
Hardcover | 6 x 9 in | 344 pages | ISBN 9781462724925
Softcover | 6 x 9 in | 344 pages | ISBN 9781462724901
E-Book | ISBN 9781462724918
Available at Amazon and Barnes & Noble
About the Author
Carol Walker is a retired lawyer. After practicing law in St. Paul, Minn., for a number of years, she retired in 1998. Over a lifetime, Walker has studied the Bible individually and in her church Bible classes. She has two adult children and six grandchildren and lives in Luverne, Minn.
CrossBooks, a division of LifeWay Christian Resources of the Southern Baptist Convention, is a Christian publishing imprint committed to bringing more Christian voices into the publishing industry. Established authors, first-time authors, and authors anywhere in between can meet their goals and fulfill their vision for their books by publishing with CrossBooks. CrossBooks' innovative style of publishing blends the best of traditional and self-publishing. While our authors contribute monetarily to cover the cost of publishing, we maintain a strict moral and quality standard that every manuscript must meet for us to publish. For more information on publishing your Christian book with CrossBooks, log on to crossbooks.com or call 1-866-879-0502.
###