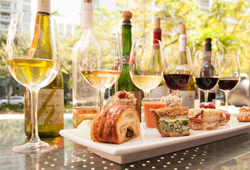 "For this being a relatively newer Breckenridge Summer event, it's quickly becoming one of our most popular." Says Joe McKown, Sales & Reservations Manager for Ski Country Resorts.
BRECKENRIDGE, Colo. (PRWEB) July 25, 2018
Although Colorado is largely known for beer, that doesn't mean that it has its shortage of wine festivals.. Namely in the high country. The Breckenridge Food and Wine Festival, for instance, transforms the beautiful old mining town into a tasty, mountain-side vineyard offering up over 300 wine samples, live music and tasty bites to accompany each varietal. Scheduled for Friday July 27 - Sunday July 29, 2018 in Breckenridge, CO this event promises a unique, wine-tasting experience with vintages ranging from the soft and smooth to the unabashedly bold. Better yet, this year the festival will expand beyond its original borders at Main Street Station to include The Village at Breckenridge, making room for more varietals, artisans, food and even a few beer selections and wine cocktail mixers.
While attendees are assured to get more than their fair share of delicious sips at the Saturday Grand Tasting event, the fun doesn't stop there! Other weekend events will include the opportunity to make Mozzarella from scratch, learn how to pair delectable foods with wines that compliment them flawlessly, the opportunity to attend a decadent food and wine pairing dinner at Sauce on the Maggie and the chance to enter to win a trip to Napa Valley.
"For this being a relatively newer Breckenridge Summer event, it's quickly becoming one of our most popular." Says Joe McKown, Sales & Reservations Manager for Ski Country Resorts, a well-established vacation rental company in Breckenridge. "The feedback from our guests regarding the event is always positive and, in fact, we already have a couple of guests that have returned every year since the festival's initiation! They have told us that they are especially grateful for our Ski Country Guest Shuttle that offers complimentary service to and from all of the events and gives Ski Country guests the chance to enjoy more wine tasting and less time stressing about parking or having to drive after the event. With over 70 of the top and most awarded wineries from all over the world, we want to be sure our guests have the opportunity to enjoy as many of those wines as possible!"
To kick off the weekend, the Breckenridge Food and Wine Pairing Dinner on Friday, July 27 at Sauce on the Maggie will have attendees reveling in the deep flavors and aromas that make wine and cuisine so special. From the presentation to the pour, a Wine Specialist will provide rich insights into the pairing process while the featured chef will share the inspiration behind the fare selections. A dinner of pure heart and soul overlooking water and mountains accompanied with live music, this dinner promises to be the next best thing to dining at a vineyard.
On Saturday, the big tasting gets underway at 1:00pm for VIP's and 2:00pm for general admission ticket holders. A prestigious tasting adventure, this event is more than just your average "wine sampling." Taking place at the bottom on Peak 9, guests will receive a commemorative glass for their unlimited wine samples; all while live music tempts the ear, fulfilling the realm of the senses. Festival food will also be offered by several vendors available a la carte for purchase.
To round out the weekend, the Sauce at the Maggie will host a Sunday Brunch and Wines at 11:00am, offering guests the chance to relish the bubbly and celebrate the vine. Leading women in the world of wine will be on-site to share their insights on the industry while guests savor specialty white wine mixers like sangrias and mimosas paired with delicious food.
So whatever your flavor, the Breckenridge Food and Wine Festival is sure to have something for you! For more information, schedule of events or to purchase tickets, click here.