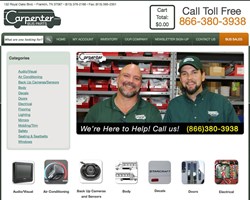 Carpenter Bus Parts... a new online destination for all your bus parts needs.
Franklin, TN (PRWEB) October 17, 2013
Carpenter Bus Sales announces the creation of a brand new online parts division by launching its new website at http://www.CarpenterBusParts.com.
Now, customers can purchase aftermarket and OEM bus parts from the comforts of their offices, homes, or garages. Carpenter Bus Parts carries parts for several bus body manufacturers including, but not limited to, Starcraft Bus, Glaval Bus, Turtle Top, Eldorado, Collins/MidBus, Girardin, Goshen, and Ameritrans Bus.
Carpenter Bus Parts online carries wheel chair lift parts from companies such as Braun, Ricon, and Maxon. Customers needing air conditioning parts for their shuttle buses will find parts for TransAir and Mobile Climate Control, formerly known as Carrier. Teardrop marker lights, tail lights, and more Optronics products, will be available able for purchase on Carpenter Bus Parts online. Velvac mirrors, Rosco mirrors, and Lucerix mirrors, as well as accompanying parts, are also available at Carpenter Bus Parts online as well.
"We've worked very hard to provide bus parts for our customers for several decades. The launch of http://www.CarpenterBusParts.com is another step in going the extra mile for our customers," states Todd Petzak, Parts Manager. Petzak notes that end users and bus repair facilities will benefit from the massive online inventory. Petzak also says, "Even within the first three days of it's launch, we saw tremendous sales from the new website."
Carpenter Bus Parts is a major provider of bus parts for shuttle buses, church buses, limo buses, mini buses, and a large variety of used buses. Carpenter Bus Sales, the parent company, has a long-standing tradition of providing transportation solutions to customers all across the United States and around the world. With the launch of CarpenterBusParts.com, Carpenter Bus Sales has positioned itself to meet the needs of customers for years to come.