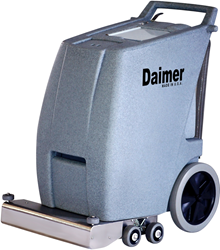 Daimer® is very proud to announce the launch of the XTreme Power® XPH-12000H, a commercial carpet cleaner with inline heating elements to create temperatures of up to 210ºF within 5 minutes .
Woburn, MA (PRWEB) August 08, 2013
Daimer Industries, Inc.®, the internationally and nationally popular brand and supplier of top-grade carpet cleaning machines, such as eco-friendly auto carpet cleaner systems, and other cleaning systems, has rolled out the XTreme Power® XPH-12000H, a user-friendly, walk-behind carpet cleaner extractor, which is perfect to maintain large carpeted floors in health clubs. The machine offers a 20" cleaning path and comes with a 50' power cord for quick cleaning of large surface areas.
"A critical responsibility of a health club or gym owner is to keep the workout environment germ-free and absolutely clean. The dirt trapped in carpets is an often overlooked bed of bacteria and germs, and can contribute to a multitude of health threats," states Matthew Baratta, spokesman of Daimer Industries, Inc.®. "Daimer® is very proud to announce the launch of the XTreme Power® XPH-12000H, a commercial carpet cleaner with inline heating elements to create temperatures of up to 210ºF within 5 minutes. The machine effectively eliminating the most stubborn dirt and skin cells deposits, sweat stains, and beverage spills on carpets. The portable carpet extractor helps maintain the health of members by offering superior cleaning power."
Conventional cleaning methods of vacuuming or other manual cleaning methods ineffective when it comes to maintaining commercial settings. For heavy-duty tasks, such as maintaining carpets in health clubs, the use of top-quality carpet shampooer machines with the latest and superior technologies is a must. The XTreme Power® XPH-12000H from Daimer® is capable of efficiently cleaning along corridors and other larger open spaces. The optional 12" industrial carpet extractor wand can be attached to the machine for rapid cleaning of corners, cervices, or other hard-to-reach areas inaccessible with the professional carpet cleaner extractor itself. The tool offers the capabilities of a conventional carpet steamer for the ultimate in versatility.
Most indoor cleaning problems are related to dirty carpets, especially in health clubs. However, this problem can be resolved by adopting proper maintenance and restoration methods. The XTreme Power® XPH-12000H comes with Daimer®'s Low Flow™ technology that reduces water usage and helps dry carpets in just one hour, unlike traditional carpet shampoo machines that leave the carpets soaked. Drying time can take 24 hours, increasing the risk of mold formation. The 4800 watts durable commercial carpet cleaner also features a water column lift of 160", an air flow of 110 cfm, a 220 psi pump, and 15 gallon solution and recovery tanks for non-stop and fast cleaning.
The industrial-grade portable carpet extractor also features Daimer®'s Advanced, Adjustable Temperature Control™ Technology for maintaining carpets made of different fibers. While maintaining carpets made of wool or any natural fibers, users can simply turn off the heat. The temperature can be easily set according to the cleaning application with this technology. Other technologies available with the XTreme Power® XPH-12000H include Modular System Design™ (MDS™) and Self-Maintenance Engineering™ (SME™) that allow users to change a part, in the very rare case it is needed anywhere in the world.
Cleaning experts suggest pre-spraying carpets with a cleaning solution for enhanced results. The solutions generally used contain chemicals that are harmful for the health and can trigger allergies in the those with chemical sensitivities. However, Daimer®'s Eco-Green® Carpet Care liquid is eco-safe and soap free, causing no harm to the environment or tpeople. The solution is extracted immediately and leaves no residue behind. Two gallons of this solution is offered for free with all of Daimer®'s carpet cleaning machines during promotions.
Accessories available with the machine include an optional 12" wand, optional 25' Combination Solution/Vac Hose, and an optional 4" upholstery tool for cleaning upholstered furniture.
For Additional Information:
Gain more knowledge about the XTreme Power® XPH-12000H by visiting the supplier's official website. Matthew Baratta can also be contacted at (888) 507-2220. The carpet cleaning machines are shipped to hundreds of countries worldwide.
About Daimer Industries, Inc.®:
Daimer Industries, Inc.® is the leading brand of over 700 models of cleaning systems, such as advanced auto carpet cleaner machines, vapor-enhanced steam vacuum cleaners, robust gum removers, technologically-superior hard surface cleaners, power-rich pressure cleaners, and many more. The company ships its machines to over 240 nations all across the globe. The machines are durable, portable, and can handle virtually all kinds of tough commercial cleaning applications.