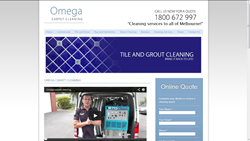 We offer a wide range of highly customized and meticulously designed cleaning services to offices and homes.
Dandenong, Victoria (PRWEB) July 03, 2014
Omega Carpet Cleaning is a leading carpet cleaning services provider based in Victoria, Australia. Offering carpet cleaning services for domestic and commercial spaces, Omega Carpet Cleaning has emerged as a industry leader. The company has so far successfully catered to the varied cleaning needs of hundreds of customers that include home and office owners.
One of the highly placed executives working with Omega Carpet Cleaning has this to say, "We offer a wide range of highly customized and meticulously designed cleaning services to offices and homes. Whether a client needs carpet and upholstery cleaning, carpet restoration, rug cleaning, stain removal, emergency food removal, high speed drying, carpet and upholstery protection, pet stains and deodorizing, we offer it all as per the customer's specifications."
The importance of high quality carpet cleaning services can never be undermined. As Melbourne has the highest number of Asthma patients, making informed decisions while choosing a cleaning company becomes even more important. Whether a client is hiring the cleaning services for domestic or commercial purposes, Omega Carpet Cleaning is an ideal choice when it comes to paying attention to the details.
The executive further said, "Offering quality services to all our clients is our main motto. Therefore, we offer outstanding results to our clients by using state-of-the-art Sapphire Scientific 570SS, which is the latest equipment in commercial cleaning. We are passionate about our work and blend our knowledge with expertise to offer our clients a healthy space to live and work."
The company also provides steam diligent home carpet cleaning services with outstanding results. Owing to its devotion, commitment to work and passion for perfection, Omega Carpet Cleaning has recurrently received accolades from its residential and business clients. The company believes that a job should be done perfectly. Therefore, Omega Carpet Cleaning keeps working until it achieves 100 percent satisfaction. Moreover, the clients also believe that Omega Carpet Cleaning is one of the best home and commercial cleaning companies in Melbourne that offer only the superior services.
About Omega Carpet Cleaning:
Omega Carpet Cleaning is a name known for offering quality carpet cleaning services in Melbourne. The company takes immense pleasures to do a job and do it in the best way possible to offer the utmost satisfaction to the customers. Omega Carpet Cleaning understands the importance of thorough carpet cleaning to keep asthma and allergies at bay. With years of experience in the industry, the company pays attention to every detail, uses state of the art equipment, devotes time and does the cleaning job in the best way possible to remain at the forefront. None of its competitors can match the experience, expertise and acumen of the company when it comes to offering carpet cleaning and tile and grout cleaning services with a difference. No wonder, Omega Carpet Cleaning offers the best home carpet cleaning services in Melbourne to those who take pride in home and their tidy surroundings.
Contact details:
10 Ecklford St.
Dandenong,
Victoria 3175,
Australia
Phone: 1800 672 997
Web: http://www.omegacc.net.au/