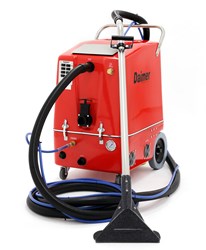 Daimer® is pleased to launch one of the best cleaning systems for carpet cleaning that helps professionals do their job better and faster. The XTreme Power® XPH-9600 is ideal for...
Woburn, MA (PRWEB) September 19, 2013
Daimer Industries, Inc.®, the globally-leading USA based supplier of sophisticated cleaning machines, is now shipping the XTreme Power® XPH-9600, one of the most power-rich models in the company's entire portable series. The system is developed to target both low- and high-pile carpets. The powerful carpet steam cleaner is expected to be a favorite among cleaning professionals; it offers enhanced cleaning power due to its impressive temperature and pressure levels as well as other user-friendly technologies.
"The maintenance of large carpeted areas in offices, such as insurance companies, pose a huge challenge to cleaning staff because they have to work within tight deadlines, and carpets need to be dry within a reasonable period of time," says spokesperson for Daimer Industries, Inc.®, Matthew Baratta. "Daimer® is pleased to launch one of the best cleaning systems for carpet cleaning that helps professionals do their job better and faster. The XTreme Power® XPH-9600 is ideal for janitorial work and can take the stress out of deadline-driven carpet cleaning and maintenance applications."
The high-powered carpet shampooer can generate outstanding pressure levels, ranging from 0-500 PSI, and temperatures reaching as high as 210°F. The XTreme Power® XPH-9600 allows operators to clean large stretches of carpeting efficiently and quickly, important benefits welcomed by those in charge of maintaining the cleaning within offices.
The heated carpet steam cleaner features two powerful inline heating elements that allow the machine to generate high temperature levels within just five minutes. The faster heating technology helps maximize productivity when tackling tough commercial cleaning applications versus using ordinary carpet cleaners.
The heat-optimized carpet shampooer also offers automatic fill and automatic dumping features. The high-powered carpet cleaning equipment can be set to automatic refill mode and the waste water can be dumped conveniently into a drain or toilet. Operators just need to connect the system to a water line and focus on the cleaning part of the job without bothering about refilling and draining manually.
The multi-purpose carpet cleaning machines feature Daimer®'s XTreme-XTraction® patented, self-adjusting 12" head floor wand that is engineered to deliver 60% more suction power than any other wand in the world. The distinctly-designed wand offers suction that can match the power of an additional vacuum motor.
The dynamic commercial carpet cleaners, which use 110 volt power, features three powerful 2-stage motors and 250 inch water column lift for maximum suction and minimal drying time. The system comes bundled with 100 feet of hoses, provided in convenient 25 feet sections for the ultimate in convenience and versatility. Operators can maximize productivity, as they can clean up to an impressive 31,000 area without having to move the machine at all.
Daimer®'s exclusive low-flow technology allows these commercial carpet cleaners to release a minimal quantity of water to flow into the carpet while powerful extractors vacuum simultaneously, ensuring faster drying times. The XTreme Power® XPH-9600 is a green cleaning machine, as it minimizes water usage significantly.
For Additional Information:
Learn more about the XTreme Power® XPH-9600 by visiting the company's website or calling Matthew Baratta directly at (888) 507-2220. The machine is exported to many countries worldwide.
About Daimer Industries, Inc.®:
Daimer® is the leading supplier of more than 700 models of highly-advanced machines like commercial carpet cleaning systems, high-quality portable steam cleaner machines, vapor steam cleaner equipment, floor cleaning systems, pressure washers, and others with exclusive patented technologies.
Blog: http://carpetcleanersdaimer.blogspot.com/
Watch Videos: http://www.youtube.com/Daimerindustries