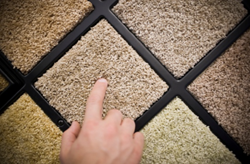 Even better, it's all backed by Conklin Bros.' ongoing commitment to our clients and neighbors in the Bay Area, so don't miss out.
San Jose, CA (PRWEB) May 15, 2014
Conklin Bros., a company that offers a wide selection of high quality flooring and carpeting, has just announced that they will be celebrating Karastan Month in a very generous way. During Karastan Month, Conklin Bros. will double the discount on Karastan flooring. Customers can take advantage of these significant savings until June 9 at all three Conklin Bros. locations.
As a new blog on the Conklin Bros. website explains, the premium floor covering manufacturer Karastan features twice-yearly sales on their top-quality carpet. Because the Bay Area carpet store is always looking for ways that they can offer their customers the best prices possible, they decided to double the already-generous discount.
With over a century in the flooring business, the owners of Conklin Bros. have had ample opportunities over the years to make some great connections and establish good working relationships with some of the best flooring and carpeting suppliers in the world. One of these manufacturers is Karastan, which has developed a well-deserved reputation as one of the country's premier carpeting companies. Shoppers are welcome to come into any of the Conklin Bros. Bay Area showrooms to see for themselves just how attractive and affordable the floor covering can be.
"Stop by our San Mateo, Fremont, or San Jose locations to learn more about this incredible floor covering and how affordable it can be to get the best in the country," the new blog noted.
"Even better, it's all backed by Conklin Bros.' ongoing commitment to our clients and neighbors in the Bay Area, so don't miss out."
For people whose busy work schedules or other commitments prevent them from coming into Conklin Bros. in person, the company's innovative and convenient shop at home feature allows them to schedule a time for a company employee to come by their home with samples of carpeting and flooring. This would also be a great way for customers to take advantage of the extra savings during Karastan Month.
Anybody who would like to learn more about Conklin Bros. is welcome to visit the company's website at http://www.conklinbros.com; there, they can browse through the vast selection of carpeting and flooring.
About Conklin Bros.:
Conklin Bros. is proud to offer a tremendous selection of carpet and flooring from all the top manufacturers for every living space, including high-end designer styles to quality, value-priced products for every budget. After 134 years of being in business, Conklin Bros. continues to be locally owned and managed. The commitment to quality, superior craftsmanship, attention to detail, is what separates Conklin Bros. from the rest. For more information, please visit http://www.conklinbros.com/.