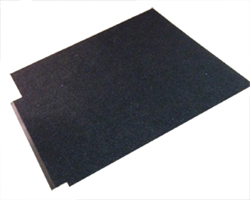 Simply send us a template of entrance, and we can create a custom entrance mat for it
Cleveland, Ohio (PRWEB) October 24, 2014
Martinson-Nicholls announced the ability to provide Chevron Carpet Mats in almost any size or shape required. The company can take a customer template and provide this wiper-scraper entrance matting to fit circular openings, angle cuts, or trim for offset doorways.
Normally provided in standard floor mat sizes from 2 x 3 feet up to 6 x 20 foot rolls, Martinson-Nicholls uses a new, proprietary seaming process to create any size or shape of mat the customer requires. For higher traffic areas, they can add more robust edging to these custom mats.
"Simply send us a template of entrance, and we can create a custom entrance mat for it," stated company president Dan Ruminski.
The Chevron matting features high quality carpeting sculptured in a distinctive herringbone pattern. A color-coordinated, heavy-duty vinyl base is slip and stain resistant. The carpeting brushes dirt and moisture from shoes, and may be cleaned by shaking it out or vacuuming. The wear, fade and crush-resistant carpet mats are offered in five different colors, and is suitable for indoor or outdoor use.
About Martinson-Nicholls
Martinson-Nicholls, has established itself as a leader in custom anti-slip tape, floor mats, and eco-friendly products for 60 years.
Martinson-Nicholls provides the customer with the exact size matting needed--small, large, standard, nonstandard, special shapes and logos. Custom installations are also a specialty of the company.
Anti-slip safety tapes and treads are available in various sizes and textures from hand cut or die cut pieces to full rolls and special shapes. For more information, please visit http://www.floormat.com.