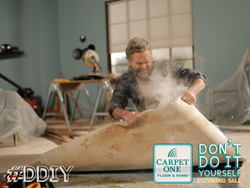 Manchester, NH (PRWEB) March 26, 2015
When budget is important, many homeowners try to cut costs and take on some of the work themselves. But, DIY is not always a safe bet for saving money. During their #DDIY (Don't Do It Yourself) Flooring Sale, Carpet One Floor & Home is encouraging customers to think twice before taking on a project on their own. There are several questions a homeowner should ask themselves before taking on a DIY home improvement project.
1. Do I have the skills required for the project?
If the project is a painting a wall, the answer may be yes, but projects like major carpentry, electrical and flooring installations require specific skills and experience that the average homeowner does not have. Researching what is involved in a project will help to determine if you have the right skills.
2. Do I have the correct tools and equipment?
Many projects require special tools and equipment – from scaffolding to power tools. This equipment can be purchased or rented but be sure to include the cost of equipment and new tools in your budget. A professional will have all the tools they need.
3. What is my time worth?
A project that takes a professional a few days may take you several weeks. How much time are you willing to give up to save money? Or how much money would you have to save to give up your time?
4. Will your DIY job impact product warranties?
Many products, especially flooring, perform better when they are installed properly. For this reason, many product warranties require a professional installation. A DIY installation could cost you in the long run.
Carpet One Floor & Home's #DDIY Flooring Sale runs through April 19th. Share your Don't Do It Yourself moments with #DDIY and take a look at some humorous #DDIY moments on Carpet One Floor & Home's YouTube Channel. Visit your local store to find a beautiful, professionally installed floor to fit your budget.