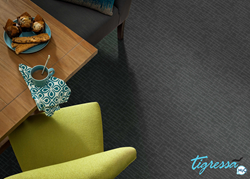 Manchester, NH (PRWEB) May 13, 2015
Carpet One Floor & Home offers family-friendly floors that allow customers with kids and pets to have beautiful floors that are durable and easy to maintain.
One of the newest products hitting Carpet One Floor & Home stores this month is Tigressá H2O carpet. This new product will make cleaning spills much easier. Tigressá H2O carpet has a new waterproof backing that won't allow spills to seep through the backing to the carpet cushion and sub-floor as most carpets would.
This new carpet comes in 15 beautiful styles to coordinate with almost any design style. It is a great option for households with kids and pets.

Waterproof - Spills will not soak through the backing on Tigressá H2O carpet. This allows time to clean the stain more effectively and eliminates smells and stains related to a stain soaking into the cushion beneath the carpet.
Pet Proof - Tigressá H2O won't retain pet or smoke odors after cleaning. The backing is also extremely durable and will stand up to pet claws.
Kid Proof - Stains and kids go hand and hand. Often times, you miss a spill when it happens. Tigressá H2O allows you to still easily clean the stain even if it goes unnoticed for some time.
Carpet One Floor & Home stores also carry many other family-friendly floors like Invincible H2O Vinyl Plank floors. These floors look and feel like real tile and wood but with a unique locking system, Invincible H2O is completely impervious to water making a great option for kitchens and bathrooms.
The entire line of Tigressá carpets including Tigressá SoftStyle, Tigressá Cherish and New Tigressá H2O as well as other family-friendly flooring options will be on sale from May 8th to June 28th during the Snap & Save Flooring Sale. With up to 50% off on select Tigressá products and up to a $500 rebate on select carpet and hard surface floors, this event is a great time to buy family-friendly floors at Carpet One Floor & Home.
About Carpet One Floor & Home
Carpet One Floor & Home is North America's leading floor covering retailer, with 1,000 independently owned and operated locations in the United States, Canada, Australia, and New Zealand. Carpet One Floor & Home stores are known for a broad selection of carpet, wood, laminate, ceramic, vinyl, and area rugs, including exclusive brands like Bigelow and Lees. They offer a unique customer experience with the exclusive SelectAFloor merchandising system that simplifies the shopping experience and The Beautiful GuaranteeTM, which guarantees that the customer will be 100% happy with their floor. Carpet One Floor & Home is also the home of the exclusive Healthier Living Installation system.