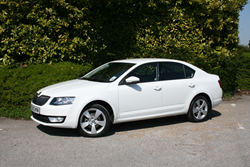 Scottish drivers rate Audi more highly than Skoda.
(PRWEB UK) 29 May 2014
As the number of WeLoveAnyCar.com reviews passes 127,000 covering virtually every make and model on British roads, the UK's biggest car review site is confident it can reflect regional and national differences in car preferences and opinions.
A spokesman for the innovative car site said, "Last year we found Scotland's top car was an Audi, not a Skoda which won the top manufacturer in our National Car Awards. Now that we have even more reviews, we are well placed to give Scotland its own car review information even if the Scottish decide on a 'No' vote."
Analysis of 2013 review data revealed key differences between drivers by location. Not only did Scotland rate Audi more highly than Skoda, the Scot's had lower ratings for Land Rovers in general citing reliability issues more frequently than owners of the same make south of the Border.
In the next few months WeLoveAnyCar.com will be analysing 127,000 new car reviews and announcing driver's ratings by region including Scotland.
WeLoveAnyCar.com has more car reviews than any other site and only asks known car owners for their opinion. More importantly it asks other owners of the same car to vote on any review submitted and has clocked up over 560,000 'agree' or 'disagree' votes to make sure the users of the site can evaluate any review given.
Each day hundreds of car reviews and votes are lodged with WeLoveAnyCar.com and they can verify not only ownership but exact model owned plus contact details including location – something that few other sites can provide.
The WeLoveAnyCar.com spokesman said, "The number of reviews is so high we can see key differences at a much more granular level than any other car review site. It is becoming very clear that not only does Scotland need its own view of our car data, we're getting ready to issue facts and figures by regions within England and Wales as well."
WeLoveAnyCar.com only accepts car reviews by invitation from known car owners, tracks every submission by contact details and does not allow unknown drivers to submit either a review or a vote on another car review. The review site is representative of all cars on UK roads by make, model and age.