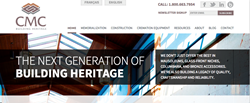 Carrier Mausoleums Construction (CMC) and Oblique Design teamed up to design a progressive, content-rich website focused on lead generation and SEO.
Chicago, IL (PRWEB) March 04, 2014
Carrier Mausoleums Construction, Inc. (CMC), the industry-leading mausoleum construction and glass-front niches manufacturer based in Montreal, Quebec, announces today the launch of their new website.
CMC hired Boulder, CO-based advertising and branding agency, Oblique Design, to create a progressive and intuitive website design. With a focus on innovative design, user experience and SEO, the new CMC website features more rich content than virtually any other competitor in the space, as well as mausoleum and columbaria construction portfolio pieces, a bronze products gallery, cremation equipment and so much more. Joshua Lintz, senior director of marketing and strategic development at CMC, said "We have spent a great deal of time and resources developing rich, value-adding content, as well as designing a user experience that will reinforce our brand image throughout the United States and Canada. Our goal is to build upon our existing marketing efforts with a focus on marketing automation as well as lead generation and, of course, converting new business."
Oblique Design contracted Chad Phillips of New Vibe Web Design, a freelance web design and development company, for all of the programming and development of this new WordPress-based website.
Driving high-quality website traffic and lead generation was front and center, so CMC and Oblique Design enlisted Denver-based search engine optimization (SEO) experts, Volume 9, Inc., to integrate SEO best practices and ensure success. Volume 9 is an Internet marketing company located in Denver, Colorado with a team of over 30 Internet marketing experts, specializing in Search Engine Optimization, Content Marketing, Local Search Marketing and Social Media Marketing.
About Carrier Mausoleums Construction, Inc. (CMC)
CMC offers the best in Mausoleum Construction, Niche Buildings, Glass-front Niches, Outdoor Columbaria, Cremation Equipment and Bronze Accessories. No matter the size of project, CMC will handle it efficiently, elegantly and cost-effectively.
(800) 663-7954 | info(at)cmc-carrier(dot)com | cmc-carrier.com