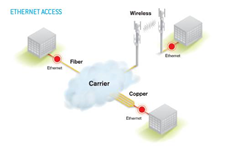 Solveforce Offers Real-Time Quoting Tool for Carrier Ethernet services in Orange County, CA effective immediately
Orange County, California (PRWEB) October 12, 2015
Solveforce will now be moving into the Orange County, California market to offer Carrier Ethernet (http://carrierethernet.org/) services. This will be an immediate roll-out for all commercial establishments.
Ethernet has long been accepted as an inexpensive, scalable data-networking solution in LAN environments; however, the stringent quality of service (QoS) expectations of today's service offering require that service providers find solutions to tap into the cost-effectiveness of Ethernet without sacrificing the benefits of connection-oriented (albeit costly) time-domain multiplexing (TDM) solutions such as SONET/SDH.
Comprehensive Ethernet testing immediately at service turn-up is now essential in order to ensure service quality and increase customer satisfaction. Customer service level agreements (SLAs) dictate certain performance criteria that must be met, with the majority documenting network availability and mean-time-to-repair (MTTR) values, which are easily verified. However, Ethernet performance criteria are more difficult to prove, and demonstrating performance availability, transmission delay, link burstability and service integrity cannot be done precisely with only a single ping command. Carrier Ethernet (http://ethernetcarrier.net/), therefore, is the extension of Ethernet that enables service providers to provide premium Ethernet services.
About Solveforce
We are committed to you in every aspect of the customer relationship. If you need to contact us for any reason, please, don't hesitate to call or email us at your earliest convenience. We will do all in our capacity to respond to your Carrier Ethernet (http://www.solveforce.com/fiber-internet) inquiry immediately.
By Phone: (888) 765-8301
By Email: ron(at)solveforce(dot)com
Website: http://solveforce.com