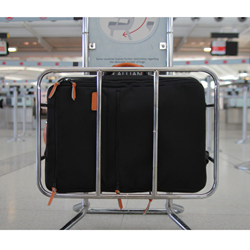 "As a young company, we are excited work and learn from the feedback of our global backers," said Ryan Chong, Founder. "Moving forward, we will continue to innovate and design new creations to meet the evolving needs of today's global traveler."
Toronto, Ontario (PRWEB) July 24, 2015
Standard Luggage Co. is pleased to announce the launch of its business: Standard Luggage Co, a Canadian luggage and travel gear company dedicated to serving the needs of today's global adventurer. Standard is the creator of Standard's Carry-on Backpack, the ultimate travel bag for professionals. The design is an all-in-one backpack, suitcase, and duffel, based on the maximum legal carry-on for all major international airlines.
Standard Luggage Co. is proud to be a crowdfunded company. Through its Kickstarter campaign, Standard raised over $31,000 thanks to its 182 backers. The successful campaign demonstrated that there is a global market ready to support Standard's innovative and stylish designs.
"As a young company, we are excited work and learn from the feedback of our global backers," said Ryan Chong, Founder. "Moving forward, we will continue to innovate and design new creations to meet the evolving needs of today's global traveler."
Based in Toronto, Canada—one of the most diverse cities on the planet—Standard understands the challenge of navigating airports, hotels, trains, and security checkpoints. Whether you're a leisure traveler or full-blown digital nomad, the believe you need a versatile carry-all system that adapts to any situation, so you can journey freely and stay happy.
About Standard Luggage Co.
Standard Luggage strives for design and innovation excellence in providing modern, versatile, and durable gear for the global traveler.
http://www.standardluggage.com
Instagram: @standardluggage
Twitter: @standardluggage
facebook.com/standardluggage