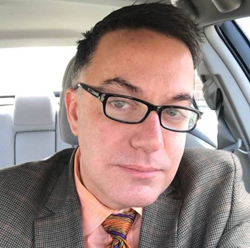 It has allowed me the opportunity to help thousands of people navigate the difficult shoals of their legal entanglements.
New Berlin, WI (PRWEB) April 13, 2017
Attorney Christopher Carson, founder of the Carson Law Office, is celebrating his twenty-fifth anniversary as a legal professional. "It's been an amazingly rewarding quarter century of practicing law in the great state of Wisconsin," said Carson, who focuses on criminal defense, family law and bankruptcy. "It has allowed me the opportunity to help thousands of people navigate the difficult shoals of their legal entanglements."
Carson is revered for his ethics and understanding of the importance of forensic evidence in any criminal case. With each case, he works to build a strong legal defense by collaborating with highly knowledgeable professionals in forensic science, firearms, toxicology, handwriting, computer technology and any other applicable disciplines in order to discover and adequately analyze all available evidence.
"Mr. Carson is a man of fine moral fiber. He possesses strong moral principles in his personal life as well as high ethical standards in his law practice," said client, Lawrence. "The quality of his work in the legal system reflects an adherence to an honest, candid distinction between right and wrong, coupled with a sincere sense of compassion and concern for the individual and life's circumstances."
In addition to law, Carson is a strong supporter of Soles4Souls, a nonprofit global social enterprise committed to fighting poverty through the collection and distribution of shoes and clothing. The Carson Law Office is an official Soles4Souls drop-off location.
About Carson Law Office
Carson Law Office represents clients faced with legal troubles throughout Milwaukee and across the state of Wisconsin. Its services include felony and misdemeanor defense, DWI/OWI defense, domestic violence defense, family law and bankruptcy. For more information, please call (262) 860-8932, or visit http://www.carsonlawoffice.com. The law office is located at 15350 W. National Avenue, Suite 101, New Berlin, WI.
About the NALA™
The NALA offers small and medium-sized businesses effective ways to reach customers through new media. As a single-agency source, the NALA helps businesses flourish in their local community. The NALA's mission is to promote a business' relevant and newsworthy events and achievements, both online and through traditional media. For media inquiries, please call 805.650.6121, ext. 361.