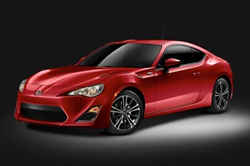 ...we are able to deliver a one-stop shopping experience that eases the tension consumers may encounter during the car-buying process.
Carmel, IN (PRWEB) March 08, 2014
CarSpecials.com is an up-and-coming automotive marketplace that delivers a unique, simple car-shopping experience. By providing the best new car deals, along with an extensive database of local dealers' inventories, the site alleviates much of the stress and headaches that are often associated with looking for a new car.
"Every day, more and more shoppers look to the Internet as a safe, comfortable place to begin what many feel is a stressful experience - purchasing a new car," said Roger Laurendeau, president of CarSpecials.com. "By creating a site that combines local dealer inventory with current national and regional deals on vehicles, we are able to deliver a one-stop shopping experience that eases the tension consumers may encounter during the car-buying process."
The staff at CarSpecials.com has selected the following offers as their Top Five New Car Deals of the Month for March:
1. 2013 Scion FR-S: The coupe that took the automotive industry by storm upon its release, the Scion FR-S, can be leased for a low monthly payment of $296 per month for 36 months with $1,999 due at signing.
2. 2014 Mercedes-Benz E400 Hybrid: Customers can finance the fuel-efficient and stylish E400 Sport Hybrid for 2.99% APR over terms of 24, 36, and 72 months.
3. 2014 Mitsubishi Outlander Sport: Those looking for a reliable, affordable crossover SUV can lease a new Outlander sport for as low as $179 per month for 36 months with $2,978 due at signing.
4. 2014 Audi S5 Convertible: Gearing up for warmer weather, the Audi S5 Convertible features Audi's Loyalty Rebate. Customers can receive $1,000 cash toward a lease or retail purchase if they currently lease or own a 2001 or newer Audi.
5. 2014 Cadillac CTS-V: The world's fastest production sedan is available with financing offers from Cadillac of 0.9% APR for either 12 or 36 months.
At the time of this release, all specials listed were researched and believed to be accurate by the editorial staff at CarSpecials.com. With the frequency of change in the auto lease, finance, and rebate space, consumers are advised to check with their local dealer to make sure a deal is still relevant and available to them in their market, as market conditions and pricing do change. Offers from some manufacturers vary by region.
For an easy, stress-free car-shopping experience, consumers can visit CarSpecials.com and utilize the full list of lease specials and other offers available. Dealerships interested in working with CarSpecials.com to promote their new and pre-owned vehicles online should contact Roger Laurendeau at 317-805-4933.
About CarSpecials.com
CarSpecials.com is an automotive marketplace dedicated to providing dealers with a wide-reaching, fairly-priced option for marketing their vehicles online. CarSpecials.com offers car buyers and tire-kickers the ability to review all current lease specials, finance deals and cash rebates in one place, making the car shopping experience more transparent. Consumers can find local car dealers, thumb through vehicles for sale, and even schedule a test drive right from the website.