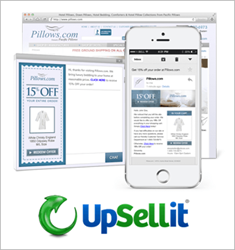 [UpSellit's] chat has not only saved us cart abandonment sales, but the interactions have also let us gain valuable insight on our user experience to help us better improve the overall shopper experience.
Westlake Village, CA (PRWEB) October 07, 2013
UpSellit (http://www.UpSellit.com), a leading cart abandonment solution provider, announced the success of the custom shopping cart recovery campaign developed for Pillows.com. Through a combination of proprietary abandonment solutions, UpSellit provided Pillows.com with an 11.8% increase in website conversions.
Pillows.com is the marketplace leader in luxury bedding. Despite their ongoing success, Pillows.com was experiencing significant abandonment from their shopping cart and checkout pages. To recover these lost sales, UpSellit developed a custom campaign that incorporated both Abandonment Chat and Email ReMarketing.
First-time visitors that abandon an active cart are engaged with Abandonment Chat. Powered by SmartAgent®, UpSellit's proprietary automated chat engine, Abandonment Chat recovers abandoned carts with real-time sales support. SmartAgent® fields user questions to answer product and policy questions. After only one month, Pillows.com's custom SmartAgent® responded to user inquiries with over 70% accuracy.
"What's great about UpSellit's Abandonment Chat is that the accuracy is constantly improving based on the interactions with our site users," commented Chelsea Duckham, Director of Marketing at Pillows.com. "Their chat has not only saved us cart abandonment sales, but the interactions have also let us gain valuable insight on our user experience to help us better improve the overall shopper experience."
Datahound®, UpSellit's proprietary pre-submit lead recovery solution, actively monitors checkout forms and collects shopper contact information the instant it's typed. UpSellit's Email Remarketing platform then dispatches custom-crafted messages to those who abandoned from checkout and did not convert after a conversation with SmartAgent®. In order to establish immediate relevance, the emails refer to shoppers by name and are populated with dynamic images and information of the items left in the cart.
"The goal of every shopping cart recovery campaign is to establish relevance, " commented Jeremy Aaronson, VP of Sales at UpSellit. "With UpSellit's visitor monitoring, we can gather deep insight into the causes of cart abandonment and deliver dynamic experiences that truly resonate with the abandoning shopper."
Almost immediately, the increase in sales was significant. UpSellit operates on a 100% pay-per-performance basis, meaning Pillows.com realized an immediate positive return on investment. In the month of August 2013 alone, SmartAgent® responded to hundreds of user queries with over 70% accuracy, achieving an impressive 39.8% campaign conversion rate. Additionally, Datahound® Email ReMarketing recovered an email address from 32.1% of abandoning shoppers. Of those who clicked through to return to Pillows.com, 58.3% of these customers went on to complete their purchase.
For more information about the cart abandonment solutions offered by UpSellit, visit UpSellit.com and schedule a consultation with an abandonment specialist. For more detailed results from the Pillows.com campaign, visit the media section to download the complete case study.
###
About UpSellit:
UpSellit provides ecommerce and lead generation businesses with 100% pay-for-performance site and cart abandonment solutions. UpSellit increases conversions up to 25% with customized email, automated chat and promotional technologies that address specific concerns and recover abandoned carts. Every campaign is a full-service solution with ongoing optimization and support at no additional charge. For more information on UpSellit's industry-leading analytics and customer recovery strategies, call 1 (866) 504-9619 or write us at info(at)upsellit(dot)com.