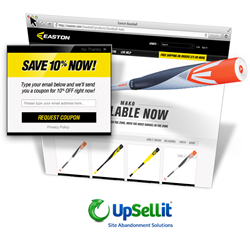 [UpSellit] worked with us to develop a re-engagement strategy that has provided an incremental increase in revenue by reducing Easton's cart abandonment.
Westlake Village, CA (PRWEB) September 10, 2013
Today, UpSellit (http://www.upsellit.com) announced the success of Easton Sports' online cart abandonment solution. Combining unique lead recovery technologies with a robust email remarketing platform, UpSellit increased Easton's conversions 8.6% by reducing shopping cart abandonment.
Easton Sports has always been at the forefront of sports equipment technology, constantly innovating and optimizing to provide world-class athletes with the tools they need to achieve maximum performance. In search of a way to drive more conversions from existing website traffic, Easton partnered with UpSellit to develop a cart abandonment strategy that would collect leads from unidentified shoppers and convert them into purchasing customers.
"After reviewing Easton's site performance metrics, it was clear that we needed to create a multi-stage campaign that would resonate with consumers in different stages of the purchase process," said Max Loewenthal, Director of Business Development at UpSellit. "Leveraging a combination of proprietary technologies, we were able to design an effective email remarketing strategy that provided Easton with an incremental lift in conversions."
UpSellit's analysis of Easton's customer purchase behavior revealed a target segment that would benefit greatly from remarketing. First-time visitors who abandon their shopping cart had a low probability of a return visit, yet they had demonstrated significant purchase intent. This made them ideal for remarketing. To recover leads from this target segment, UpSellit leverages two lead recovery technologies: Exit Email Capture and Datahound®. Recovered leads are then entered into UpSellit's real-time Email ReMarketing platform to drive back conversions.
UpSellit's Exit Email Capture solution engages targeted visitors at the moment of abandonment to incentivize an email submission. Once the visitor's email is collected, UpSellit instantly delivers a coupon to the consumer's inbox. If the shopper had advanced to checkout and typed an email address, UpSellit's Datahound® technology would save the address in real-time and enter the customer profile into UpSellit's email remarketing engine.
"UpSellit is dependable, responsive and very knowledgeable about online purchase behavior and website abandonment," commented Stephen Lease, Easton's Head of Digital. "They worked with us to develop a re-engagement strategy that has provided an incremental increase in revenue by reducing Easton's cart abandonment. UpSellit's continued testing and optimization has produced impressive results and we recommend their services to any online merchant interested in driving more conversions out of their traffic."
The results of UpSellit's campaigns were immediately impressive. In just two months, Easton realized an 8.6% increase in conversions from their online store. The Exit Email Capture generated 70% of recovered conversions, and the Datahound® solution recovered leads from 43.31% of checkout page abandoners. As a performance-based service, UpSellit was able to provide Easton with a positive return-on-investment from the very first sale recovered. To learn more about the campaign, be sure to read the full case study here: http://www.upsellit.com/Easton-ReducesCart-Abandonment.jsp
###
About UpSellit:
UpSellit provides ecommerce and lead generation businesses with 100% pay-for-performance site abandonment solutions. UpSellit increases conversions up to 25% with customized email, automated chat and survey technologies that address specific concerns to recover abandoned consumers. Every campaign is a full-service solution with ongoing optimization and support at no additional charge. For more information on UpSellit's industry-leading customer recovery strategies, call 1 (866) 504-9619 or write us at info(at)upsellit(dot)com.