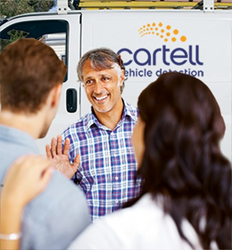 New installer list on website locator.
Salunga, PA (PRWEB) July 08, 2014
Cartell makes a driveway alarm system that makes homeowners aware every time a vehicle enters their driveway. It also makes a free exit system that attaches to automatic gate operators to offer homeowners a hands-free exit from their property. Both lines of products must be professionally installed.
Cartell has been sold to installers via distribution channels since 1975. Each installer of Cartell products is independent. Cartell installers include those who work in the security, home automation, electrical, building, gate and fencing industries. There were many installers in Cartell's database that needed to be placed on the Cartell website in order that interested consumers might find them.
One year ago, Jonathan Bohannon, President/CEO of Cartell, approached MC Pacific International Sourcing and Consulting, located in Lewisberry, Pennsylvania about taking the decades-old database of installers, filtering and updating the list and then placing them in a locator on the Cartell website.
"I am happy to announce," says Mr. Bohannon, "that with the diligent work of MC Pacific, we now have over 2000 installers listed on our website. This was a daunting task," Mr. Bohannon continues, "the professionalism and dedication to the task of employees at MC Pacific, have paid off and we are the better for it.
"We are always looking for more installers for the consumer to choose from and welcome any inquires from those who place an emphasis on professionalism, attention to detail and customer service," Mr. Bohannon concludes.
For information on being included on Cartell's installer locator, visit: http://www.cartell.com/become-a-reseller/installer-information/certified-installer-application/.
Cartell, founded in 1975, is a division of Preferred Technologies Group, located in Lancaster County, Pennsylvania. Starting with its groundbreaking use of magnetometer technology for vehicle detection, Cartell has led the industry with innovation, functionality, quality and value. The dependability of Cartell's products far exceeds the industry standard and is backed by a five-year warranty. Every Cartell product is quality-made in the U.S.A. and sold by a national network of fine distributors.
Media Contact:
Jonathan Bohannon, President/CEO
j.bohannon(at)cartell(dot)com
(717) 917-4468
http://www.cartell.com