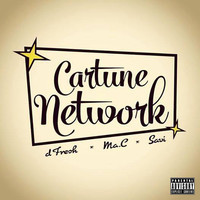 This is not just for people who grew up watching the shows, but also for people that love music and want to take their minds to a relaxed state
Boston, MA (PRWEB) May 29, 2014
New England Hip-Hop artist dFresh collaborated with fellow New England artists Ma.C and Savi to create an 8-track EP called Cartune Network. Cartune Network provides a smooth and innovating twist to the Hip-Hop world as it incorporates childhood memories with lyrical creativity. The artists plan to release the EP in June alongside various promotions to be provided on their social media networks.
dFresh describes Cartune Network as a trap-style entity merging with light humor and impressive lyricism while unifying multiple generations and genres. The songs involved in the project feature familiar shows to include Johnny Quest, that helps listeners ease their mind and enter into childhood memories while enjoying the introduction of a new sound. "This is not just for people who grew up watching the shows, but also for people that love music and want to take their minds to a relaxed state." said dFresh.
dfresh who also created the projects Young Pharaoh and The Phonic Wub, expects to release his official press kit with information detailing his presence within the music industry and official information. With songs featuring on online sites like Fistintheair.com, he plans for this project to continuously provide listeners with peace of mind and sound satisfaction.
Douglass E. Watkins aka dFresh grew up in Delaware to a musically connected family which inspired him to begin rapping at the age of ten. At this same age, his father passed, and he learned to cope with this through his musical abilities and he did not stop there. At age thirteen he began recording himself on tape players and by fifteen he learned various audio programs like fruity loops to produce his own beats.
Moving to Boston, dFresh set out to create a style of music that would be Fresh in both style and existence. His desire to move people through his music and allow listeners to feel motivated while thinking independently. dFresh began releasing multiple projects which begin with moving variables and appeases every mood. His energy begins internally and is complemented by the creative input of his surroundings. Enter into the determined mind of an artist that believes in providing a Fresh and independent style of music to listeners.