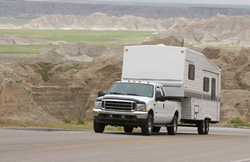 GRAND JUNCTION, Colo. (PRWEB) June 30, 2020
For many, summer in Colorado means exploring the Rocky Mountains, going on camping trips and taking road trips to the parks and natural areas that the state has to offer. Coloradans can make the most of their summer adventures by investing in a camper or motorhome; and with help from the team at Carville's Auto Mart in Grand Junction, they can read through informative model research to help guide their shopping endeavors. The staff at Carville's Auto Mart works hard to keep the dealership's website up to date with helpful information about the campers, motorhomes and other used vehicles to assist shoppers in their search.
Tools are available on the Carville's Auto Mart website that allow shoppers to filter their search to match specific price ranges, body styles and vehicle types, so individuals searching for a pre-owned motorhome or fifth wheel do not have to leave the comfort and safety of their home to do so. If shoppers are interested in visiting the Grand Junction dealership, they have to schedule an appointment before doing so because of COVID-19 precautions.
Individuals interested in learning more about the informative research, inventory and offerings at Carville's Auto Mart can visit its website at https://www.carvillesautomart.com/. The dealership is located at 2507 Hwy. 6 and 50 in Grand Junction. People with questions about Carville's Auto Mart can contact 970-241-5370 to speak with a member of the dealership's team.