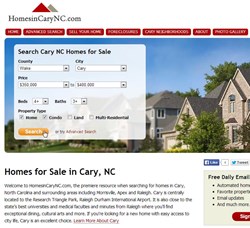 Shopping for a home should be a fun experience and the technology shouldn't get in the way.
Cary, NC (PRWEB) December 31, 2013
Raleigh Triangle Premier Properties and one of their standout agents Aletha Burch are seeking to improve online home search. "So many real estate websites are lacking. They aren't easy to use, load slowly or the website is so generic you aren't sure the content is relevant," explains Burch. "After a great deal of listening to our clients and learning what they wanted when they were searching for a home, I decided it was time to develop a website that was easy to use, and even enjoyable. Shopping for a home should be a fun experience and the technology shouldn't get in the way."
Ms. Burch started by hiring a digital marketing consultant specializing in real estate. "We began by focusing on a specific market, in this case Cary, North Carolina. We knew the site would need great home search tools including an interactive map. We added 30 other items to the list including popular Cary community pages, photo galleries and tools to make it easy to use on phones and tablets."
Ms. Burch's website http://www.HomesinCaryNC.com provides a host of home buyer tools such as amenities and community search as well as the ability to save favorite properties and search parameters. In addition, the site provides users an email feature that alerts them when similar properties are released on the market.
Ms. Burch adds, "Many of our buyers are relocating to RTP (Research Triangle Park) from out-of-state and in many ways we created the site for them. They need to learn about the area, the communities, schools and so much more. We're working hard to add new content that helps them find what they are looking for."
Aletha and her team at Triangle Premier Properties plans to add additional interactive tools to the existing website and to eventually create new websites for other markets around the Triangle. "Our goal was simple really. Create a website that meets all the buyers' needs. So once they find our site, they won't need to use another. We think that's good for home buyers and our business," explains Burch.
Triangle Premier Properties - headquartered in Raleigh, North Carolina, Triangle Premier Properties is a full service buyers and sellers agency that focuses the Research Triangle including Raleigh, Apex, Chapel Hill, Morrisville, Wake Forest and Cary. For more information, or to search for homes in Cary or surrounding areas visit http://www.HomesinCaryNC.com or contact Aletha Burch.