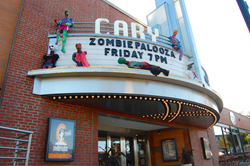 Our programming in October channels our fascination with the ghostly delights of Halloween season, capped off with our zombie movie-making contest and locally produced horror-fest.
CARY, N.C. (PRWEB) September 29, 2017
The second annual Zombiepalooza highlights a frighteningly entertaining October schedule of out-of-the-ordinary programming at The Cary Theater. Located in downtown Cary, N.C., the arthouse theater will host a unique lineup of horror-themed film festivals along with an interesting schedule of independent films and classics all month.
"Our programming in October channels our fascination with the ghostly delights of Halloween season, capped off by our zombie movie-making contest and locally produced horror-fest," said Joy Ennis, operations and program supervisor for The Cary Theater. "We're screening a diverse collection of horror classics as well as critically acclaimed independent films."
On Oct. 27, families are invited to celebrate Halloween with a free zombie-themed block party outdoors in downtown Cary beginning at 7 p.m. Zombiepalooza features 20 locally produced zombie short films and a screening of George Romero's 1978 classic "Dawn of the Dead."
For the past three months, Triangle-area teams have been creating their own short zombie films to be shown on the outdoor screen downtown. Attendees to Zombiepalooza are encouraged to dress as their favorite zombie or horror film character. Prizes will be awarded for best film and favorite costumes.
The Sick Chick Flicks Film Festival follows on Oct. 28-29. This locally produced fear-fest celebrates independent horror, sci-fi, and fantasy films with a special emphasis on women filmmakers from around the world. Forty-five short films will be shown over the two-day festival. Tickets can be purchased at The Cary Theater website.
Other highlights from The Cary Theater's October schedule include current independent films, classics and relevant documentaries, including:
On Oct. 4, the Triangle Filmmaking Community, as part of its Motion for Pictures Screening Series, will present an opus of horror with nine award-winning short films that push the limits of sanity. Featuring: "Zombinladen," "Night of the Slasher," "The Backwater Gospel," "Ghost House," "Control," "Sleepless," "Fried Barry," "Don't Move," and "Dead Hearts." Screenings start at 7:00 p.m.
On Oct. 18 at 7:30 p.m., Cinema Overdrive presents "The House On Sorority Row," a campy B-movie about an innocent prank gone horribly wrong where sorority sisters are stalked one by one at a graduation party.
On Oct. 19 at 7 p.m., Full Frame Road Show presents "The Cinema Travellers," an exclusive, free screening of an independent film about cinema lorries bringing the wonder of movies to rural villages in India.
The Cary Theater will screen current documentaries and independent films on multiple dates in October.
"Bugs" is a documentary film about the fact that two billion people worldwide eat insects, dissecting their fascination with these culinary delights. Showing: Oct. 5 at 2 p.m. and 7 p.m., Oct. 7 at 9 p.m., and Oct. 8 at 2 p.m.
"A Ghost Story" stars Casey Affleck and Rooney Mara in an unforgettable meditation on love, grief and the enormity of human existence. Showing: Oct. 5 at 9 p.m., Oct. 7 at 7 p.m., Oct. 12 at 9 p.m., Oct. 14 at 9 p.m., and Oct. 19 at 2 p.m.
"Swim Team" is a documentary film about boys with autism forming a swim team that challenges the system. Showing: Oct. 12 at 2 p.m. and 7 p.m., and Oct. 14 at 7 p.m.
"The Magic Flute" is a spellbinding production of Mozart's work conducted by Julia Jones and recorded live at London's Royal Opera House. Audiences are transported to a fantastical world of dazzling scenery with dancing animals and flying machines. Showing Oct. 15 at 2 p.m.
"Attack of the Lederhosen Zombies" screens Oct. 20 at 9 p.m., Oct. 22 at 2 p.m., and Oct. 26 at 9 p.m.
About The Cary Theater
The Cary Theater, located at 122 E. Chatham St. in downtown Cary, lights up downtown with its mission to provide a unique setting for the community to experience art house cinema and live performances that enhance the cultural arts experience in the Town of Cary. Originally constructed in 1946 to serve as the Town's first indoor movie theater, The Cary was meticulously restored in 2014 to create a vibrant space downtown that offers independent film, live performance comedy and improv, the Six String Presents music series as well as other live events. The Cary is owned by the Town of Cary and operated by the Department of Parks, Recreation and Cultural Resources.