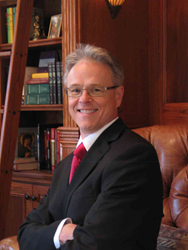 "Dentistry has been so good to me – it's hard not to want to give back. When there's a need, I want to fill it." - Dr. Thomas Skleba
Cary, IL (PRWEB) September 17, 2015
Thomas Skleba, DDS, will be representing Cary Dental Associates practice this Friday, September 18, at the annual Cure Network health clinic in LaGrange, Illinois. The clinic, which will be the fifth sponsored by the charity, is expected to break records for volunteer support this year with over 400 professionals already signed up to attend and provide services.
"I'm working the 5:30 AM to 12:00 noon shift, so I'll be getting up at 4:00 am to leave for LaGrange," says Dr. Skleba, who is a returning provider for the event. "I made the decision about five years ago that when these kinds of opportunities came up, I would do them! Dentistry has been so good to me – it's hard not to want to give back. When there's a need, I want to fill it."
Dr. Skleba is no stranger to rising to a challenge. Salutatorian of his class at Loyola University, he spent a year as a hospital dental resident before dedicating a decade to teaching at Illinois Masonic Hospital while simultaneously practicing handicapped dentistry under the hospital's Special Patient Care Program.
"After years spent establishing my own practice, I wanted to be able to continue giving back," Dr Skleba recalls. "I was honored to be part of the Mission of Mercy medical team in New Orleans; I've worked with domestic violence victims to provide much needed dental care; and I currently am part of Dental Lifeline, which provides pro-bono services to financially strapped medically compromised patients."
In addition to the Cure Network clinic, Dr. Skleba is scheduled to participate in a similar, smaller event in Crystal Lake this October, in conjunction with the Immanuel Lutheran Church. "Giving back to the community is just the right thing to do," he concludes. "There's this vast amount of happiness that comes from being able to use your skills to create amazing smiles, and it's even more rewarding when you get to bring that joy to people who really didn't think they'd ever be able to have the smile of their dreams."
Dr. Skleba is the owner of Cary Dental Associates in Cary, IL. For more information, visit the practice website at http://www.carydentalassociates.com/ or call for an appointment at (847) 516-1100.
The annual Cure Network Clinic Program is to be held September 18-19, 2015 at the Park District of LaGrange in LaGrange, IL. For more information, visit the organization website at http://www.curenetwork.org.
###