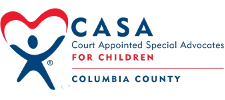 It is a great way to give back to the community and make a difference in an individual child's life.
St Helens, OR (PRWEB) December 07, 2013
CASA stands for Court Appointed Special Advocate. CASA volunteers are people who donate their time to make a difference in a foster child's life while they are in foster care, until they transition into permanent homes, or back to their parents. The social workers of Columbia County are spread too thin, and CASA volunteers are a big help, but more people are desperately needed.
Many families in Columbia County are in desperate situations due to alcoholism, drug abuse, neglect, and sexual and physical abuse. Children are often taken out of the home and placed under foster care; until the parents are deemed fit enough to have them back, or until they are adopted. CASA volunteers are a tremendous help to children in these situations, because they act as an advocate for the specific child – making sure they are getting the services they need from doctors, therapists, and helping them to stay connected to their other family members.
Statistic have shown that children who have a CASA volunteer tend to spend less time in the foster care system, than those that don't. CASA volunteers are asked to donate 15 to 20 hours a month on each case and the average span of a case is 18 months. Most CASA volunteers find the work incredibly fulfilling – it is a great way to give back to the community and make a difference in an individual child's life.
To become a CASA volunteer, one must pass a background check and go through 30 hours of training, including courtroom observation. 15 hours of the training can be completed online, while the other 15 hours can be done in our classroom and at court. Interested parties can obtain an application from CASA via regular mail or email.
CASA volunteers serve three critical functions:
A) To investigate all of the relevant information about a particular child's case, by interviewing teachers, the child's parents, doctors, therapists, foster parents, and all others connected to the child.
B) Advocate for the assigned child and make sure all relevant and key information is presented to the court.
C) Insure that the Department of Human Services, the court, and the child's attorney facilitate the child's journey through the system in a timely manner.
CASA for Kids always need new volunteers, but also accepts donations. Many of our donors want to help, but cannot donate their time. They do so by making one time donations, or setting up monthly donations for as low as $10. All donations are tax deductible and are much appreciated. With everything that is going on in the world, this is a great way for citizens of Columbia County to make a difference in their local community.