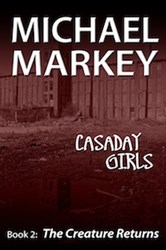 Preteen superheroes Alexa and Rachael Casaday now face unfinished business in 'Casaday Girls, Book 2: The Creature Returns,' by Michael Markey.
Berlin, NJ (PRWEB) January 23, 2014
"Your next adventure awaits." Nemesis Dunbro Lasnikov expresses these words in a cryptic parting email at the close of "Book 1: Super Kids." Preteen superheroes Alexa and Rachael Casaday now face unfinished business in "Casaday Girls, Book 2: The Creature Returns" by Michael Markey. What happened to the elusive victim at Stamford Lake, Isaac Fromme? Lasnikov reveals that the expiring old gentleman lies in a dank labyrinth beneath the crumbling factory, trapped in the forbidding structure that nearly cost the Casadays their lives only days ago.
Assisted by their Grandfather Martin McGuire--another family member with a few powers of his own--the Casaday sisters return to the abandoned building and, beyond the great blue door they enter a secret portal and descend to the dark crypt below. The searchers rescue the debilitated Mr. Fromme from his resting place of captivity, a crude pine coffin. Hmm...could old Isaac be a vampire?
After a few days of rehab with his enigmatic physician, Dr. Edwin Rothschild, the girls visit with Fromme, concerned about his health and welfare. They discover Isaac is a natural scientist of sorts--and a "good" vampire, not the bloodthirsty killer type--researching the presence of a grotesque creature recently sighted (by him) in the area. Locals think his subject was a legendary beast, the terrifying product of South Jersey folklore. Alexa is also tuned in to the existence of this so-called monster through her communication with the local four-legged creatures, one superpower she inherited from her mother. Fromme is convinced the flying behemoth is in truth a misunderstood freak of nature sadly facing extinction. Misguided neighborhood youths believe otherwise and the "Frankensteinian" hunt begins. Only the superpowers of the Casaday girls will protect and free the creature, and his family, from death at the hands of their adversaries.
Markey first brought the Casaday stories to life two years ago. He developed the saga of two dynamic youngsters, perhaps children like his granddaughters. Then, he gave them special gifts to solve mysteries and do good works in their quiet neighborhood. "The intent was to create wholesome entertainment, tales about local kids with powers to give them that competitive edge against the villains in their fragile lives. The Casaday epic presents superheroes of Independent Reader age." In "Book 1" Alexa and Rachael dispatched a tyrannical nemesis lurking a few blocks away from their home. Are they now prepared for vampires and legendary monsters in Markey's latest volume?
Contact:
Michael Markey
mamarkey1(at)verizon(dot)net
856-767-2331
Review copies available to media contacts. Author Michael Markey is available for interviews.
About the Author:
Michael Markey is the author of several articles written for national magazines. His first full-length title, "Jake - The General From West York Avenue," was the premier biography of famous WW II Four-Star General Jacob L. Devers for The Historical Society of York County (PA), published in 1998. His recent ebooks published: "Quilt of Dreams" (2011), "And Now You Must Die!" (2012), and "The Casaday Girls, Book 1: Super Kids" (2012).
About eBookIt.com
Since 2010, eBookIt.com (based in Sudbury, Massachusetts) has helped thousands of authors and publishers get their books converted to ebook format, and distributed to all the major ebook retailers, including Amazon.com, Barnesandnoble.com, Apple iBookstore, Kobo, Sony Readerstore, Ingram Digital, and Google eBookstore.
###