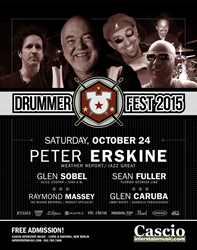 Since 2001, DrummerFest has continually featured some of the nation's most progressive and seasoned drummers from around the world.
New Berlin, Wisconsin (PRWEB) September 18, 2015
Milwaukee music superstore Cascio Interstate Music, 13819 W. National Avenue in New Berlin, will hold its 15th annual DrummerFest on Saturday, October 24, 2015 starting at 11 am and ending at 6 pm, with doors opening at 10 am. This free Milwaukee music event is open to the public. Since 2001, DrummerFest has continually featured some of the nation's most progressive and seasoned drummers from around the world.
The lineup for 2015 features Peter Erskine (Weather Report, jazz great), Glen Sobel (current drummer with Alice Cooper), Sean Fuller (Florida Georgia Line), plus Glen Caruba (in-demand percussionist) with Raymond Massey (The Wooten Brothers, Denny Jiosa). At DrummerFest, free prizes are offered, along with photo and autograph opportunities with these drum stars, amazing drum deals, and factory representative demos. Arrive early for the best possible seating at this popular Milwaukee drumming event.
The first artist will start at 11:30 am and the day will end with the popular all-star jam at 5:30 pm. For this one-day only event, savings are offered on major drum brands Tama, Sabian, Zildjian, Mapex, Pearl, Evans, DW Pedals, Regal Tip and Vic Firth.
Peter Erskine is presented by Tama and Zildjian. Erskine is known for his versatility and love of working in different musical contexts. He appears on over 600 albums and film scores, and has won two Grammy Awards, plus an Honorary Doctorate from the Berklee School of Music (1992). Peter Erskine has played with Weather Report, the Stan Kenton and Maynard Ferguson Big Bands, Joni Mitchell, Steely Dan, The Brecker Brothers, The Yellowjackets, Pat Metheny and many others. Peter is Professor of Practice and Director of Drumset Studies at the Thornton School of Music, University of Southern California. Read more at http://petererskine.com/.
Glen Sobel is presented by Sabian, Mapex, Evans, DW Pedals and Regal Tip. Currently on tour with rock legend Alice Cooper, Sobel has played in a variety of genres including rock, hip hop, pop, metal, punk, and fusion. Recent gigs have included SIXX A.M. featuring Nikki Sixx of Motley Crue, Elliott Yamin of American Idol, guitarist Paul Gilbert, Italian rock superstar Vasco Rossi, and studio work on ESPN's Monday Night Football Theme. Read more at http://www.glensobel.com/.
Sean Fuller is presented by Mapex, Zildjian and Vic Firth. Fuller played during the launching stages of country star Luke Bryan's career, and then spent five years touring with country star Justin Moore. Fuller is currently with country super-duo Florida Georgia Line, and their 2015 headline "Anything Goes" tour is in full throttle. Sean excels in the group's mix of Hip Hop, R&B, and Rock styles. Read more at http://vicfirth.com/artists/sean_fuller.php.
Glen Caruba and Raymond Massey are presented by Pearl. Glen and Raymond will demonstrate the interaction between a drummer and percussionist within a modern jazz/rock ensemble. Grooves, open solos, and odd time examples will all be covered as they perform along with tracks for an upcoming record release this year. Glen Caruba is one of the most in-demand percussionists in the Nashville scene having recorded or performed with artists such as Jimmy Buffett, Lynda Carter, Toby Keith, Trisha Yearwood and many others. His percussion can also be heard on TV commercials and movie soundtracks as well. He has three percussion instructional books and videos distributed by Hal Leonard. Read more at http://pearldrum.com/artists/percussion-artists/glen-caruba. Raymond Massey has performed with Vern Gosdin, legendary country music artist Tanya Tucker, is house drummer for The Wooten Brothers, and currently performs with Grammy nominated guitarist Denny Jiosa. Massey is Director of Product Development at Pearl Drums.
About Cascio Interstate Music:
Cascio Interstate Music ranks in the top 15 nationally among musical instrument retailers and is one of the nation's top drum retailers. Cascio provides musical instruments and accessories to musicians of all ages, including music educators at over 100,000 schools and universities, and music professionals worldwide. The company started in 1946 in Milwaukee, Wisconsin.
Over 100,000 musical products are marketed nationwide via catalogs and online, and locally at their SuperStore in New Berlin, Wisconsin. Cascio's retail location offers private music lessons, free educational clinics, instrument rentals, musical instrument and electronic repair, and more. Under their ARU Music group of brands, Cascio designs, markets and manufactures proprietary brand musical instruments Union Drums, Archer Guitars, Ravel Band Instruments and Melokia Ukuleles for consumers, major eCommerce online retailers and schools worldwide.