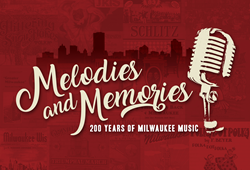 We are pleased to be able to support the Milwaukee Historical Society's great exhibition on 200 years of Milwaukee Music ...
New Berlin, Wisconsin (PRWEB) January 11, 2017
The Milwaukee County Historical Society presents a 2017 Major Exhibition entitled "Melodies and Memories: 200 Years of Milwaukee Music" which opened at the downtown museum, 910 N. Old World Third Street in Milwaukee, on Monday, January 9.
Melodies and Memories is a comprehensive exhibit that explores the styles, people, organizations, businesses, and places that were, and continue to be, central to Milwaukee music. The exhibit time frame ranges from Native American music through to modern day and is built to appeal to people of all ages. Curator Ben Barbera states "this exhibit will go beyond genre and performer to explore music's role in Milwaukee's economic, technological, entertainment, and social spheres." The exhibit uses artifacts, photographs, documents, and audio and visual media to show the impact of music on Milwaukee County's history.
In business for 70 years, Cascio Interstate Music will be an integral part of the exhibit. "We are pleased to be able to support the Milwaukee Historical Society's great exhibition on 200 years of Milwaukee Music. Cascio Interstate Music has proudly been part of the Wisconsin area music scene since 1946," said Michael Houser, Cascio CEO.
Cascio's portion of the music exhibit includes nine interactive "Player's Pods" for all ages, allowing visitors to experience the joys of playing music thorough guitar, drum and keyboard pods. The Archer Guitars brand is featured which is designed by Cascio in Milwaukee.
Michael Houser adds, "We have an area which exhibits photos from the beginning of our Company, started by Frank Cascio, with his first music stores in West Milwaukee and then West Allis on Lincoln Avenue which initially focused on accordions and accordion lessons, to our current location in New Berlin with over 75,000 musical items."
Cascio also presents an "Instrument Petting Zoo" exhibit area for kids to try Cascio's own brands of Melokia Ukuleles, Union Bongos, Ravel kids instruments and more. "All of these are musical items we design here in Milwaukee and sell to retailers such as Kohl's, Walmart, Amazon, Target and more, worldwide," Houser stated. "Our Cascio exhibit will work to have Historical Society visitors enjoy, as well as inspire."
A series of events will occur throughout the exhibition's run which takes place from Jan. 9 to Apr. 30. From happy hours, to performances, to a family day, to opportunities to hear from music historians and musicians of today, all are welcome for these public programming opportunities. For more information about the exhibit or programs, visit http://www.milwaukeehistory.net or call 414.273.8288. Groups and school tours are also welcome to schedule a visit.
The Milwaukee County Historical Society was founded in 1935 to collect, preserve and make available materials relating to the history of the Milwaukee community. Through a broad range of activities, the Historical Society seeks to recognize and preserve our local history.
Cascio Interstate Music ranks in the top 15 nationally among musical instrument retailers, and is also one of the nation's top drum retailers. As the Company moves into its 70th year in the music industry, Cascio continues to evolve as an omni-channel musical retailer, in an effort to satisfy all its customers expanding and changing needs both now and in the future.
The Company markets over 75,000 musical instruments and accessories to musicians of all ages in a number of ways including via their website, http://www.interstatemusic.com, and through their SuperStore, located in the Milwaukee suburb of New Berlin, Wisconsin, as well as their musician-staffed information center at (800) 462-2263. Cascio also provides products to music educators at over 100,000 schools and universities worldwide. The Company started in 1946 in Milwaukee, Wisconsin and proudly remains independently owned, operated and run by musicians.