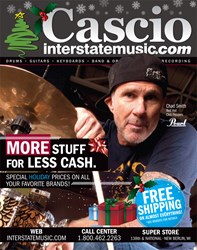 This holiday season, we again tried to make it easy for our customers to pick out gifts for themselves or their musician friends.
New Berlin, WI (PRWEB) October 31, 2013
Milwaukee music store and nationwide musical instrument retailer Cascio Interstate Music announces its holiday gift suggestions for musicians of all ages, all for under $100. If you have a musician on your gift list, Cascio Interstate carries products from instruments to accessories, and is a great online destination to buy guitars, drums, keyboards, wind instruments, plus music books & DVDs, all at http://www.interstatemusic.com.
"This holiday season, we again tried to make it easy for our customers to pick out gifts for themselves or their musician friends. We also have a great variety of musical gifts geared to kids which helps inspire them to play a musical instrument," said Michael Houser, CEO. "We have some great new items this year, as well as historically proven products and brands, and have over 75,000 items available, most offering Free Shipping during the Holidays."
Great Musician Gifts Under $25:

Recorder (EM570, $1.99) from Ravel. ABS resin construction, German-style fingering for easier finger placement. Available in seven translucent colors: Blue, Green, Orange, Pink, Purple, Red and Yellow; or solid Ivory.
Guitar & Bass Tuner (EA216SN1, $11.95) from Snark. Clip-on tuner features a full color display, rotating 360 degrees for easy viewing. Use on front or back of headstock (accommodates left and right handed players).
One Direction: Up All Night Songbook (QPC349396, $13.59) from Hal Leonard. Piano/vocal/guitar songbook matches their debut CD, with piano/vocal/guitar arrangements of the smash hits "What Makes You Beautiful," "Everything About You," "Gotta Be You" and more.
Drumstick Standard Bag (MB224, $12.98) from Zildjian. Two large inside pockets hold at least a dozen pair of sticks, brushes, etc. and the outside pocket is for accessories.
Lunch Boxes (QBC367xxx, $18.74) from Hal Leonard. Tin lunch boxes are great for lunch and the right size (7.75" wide x 7" long) for all your guitar gear. Choose from designs: Boombox, Fender Custom Shop, Woodstock, Pink Floyd and Fender Black Tolex Metal.
Soprano Ukulele (GTSUK13, $19.99) from Melokia. Popular model features all-wood construction, rosewood fretboard, a 13" scale, 20-3/4" total length, with 17 frets. New for 2013, these also come in sharp-looking, delightful colors: Midnight Black, Nasty Neon Lime, Pretty Pink, Pop Purple, Wild White and Mellow Yellow as well as the original Natural Woodtone.
25-note Glockenspiel (RFKGLOCK25, $19.99) from Ravel for Kids. It's the ideal melodic instrument for children to learn basic musical harmony. Mounted inside a durable case with legs to raise it for more volume.
Conductor Music Stand (SP007P, $19.99) from Ravel. Heavy-duty black steel tubing adjusts from 28" to 48", a great value for any music student.
Headphones (SRSUR29, $24.99) from Koss. Closed leatherette ear cushions give maximum isolation in a collapsible design.
Great Musician Gifts From $26 to $50:
Mini Birch Cajon (DRSSCAJ1LBNT, $29.99) from Meinl. This compact cajon can be played in your lap and fits in your backpack! It makes a great gift for travel or for the office desk. It's only 5-3/4" x 5-3/4" x 8-1/2".
Black Beauty Cowbell (PA107, $29.99) from Latin Percussion. The most widely recorded cowbell in history, 5" mountable, black. Slightly rounded playing surface makes it easy to get a good sound every time.
7-piece Harmonica Set (HAR1501/7C, $32.99) from Hohner. Set features the most popular keys of A, Bb, C, D, E, F and G, all in a red pro type hard shell case.
Bongo Drums (DRSUB1, $33.97) from Union. One Earth Bongos are ideal for the beginner or hobbyist looking for a well-made set. Tunable, 6" and 7" natural hide heads, with drum key.
Guitar Amplifier (AMPGA15, $39.99) from Archer. A great companion to a first guitar, featuring gain, volume, mid, bass with boost switch, treble controls, plus a switched overdrive channel. 15-watt (RMS) 6.5" speaker and a headphone jack.
Great Musician Gifts From $51 to $100:
"Baby" Acoustic Guitar (GTSAD10B, $77) from Archer. This "baby" model is a 3/4 size, compact model, great for college, camping or the apartment. Spruce top with steel strings, 36" long.
Snare Drum, 14" x 5.5" (DRSVSB1455SC443, $89) from Pearl Drums. Pearl's Vision Birch Snare Drum provides a powerful punch and aggressive attack in Silver Champagne Sparkle finish. Includes a classic 8-lug design and limited edition badge.
Vocal Microphone (MICSM58LC, $89 with Mail in Rebate) from Shure. The legendary Shure SM58® is designed for professional vocal use in live performance, sound reinforcement, and studio recording.
Mini Drum Set (DRSUT3, $99) from Union Drums. The UT3 is a real drumset, designed for youngsters. Includes all-wood shells, 13"x8" Bass Drum, 8.5"x5" Tom Tom, 10"x5" Snare Drum, 8" Cymbal, Adjustable Mini Throne, Bass Drum Pedal, Drumsticks, Bass Drum Spurs, tuning key, and all mounting hardware for cymbal, tom and snare. Available in Metallic Dark Blue, Metallic Red and Pink colors. Recommended for ages 3 and up.
Portable Keyboard with Free Stand (SYSPSRE243, $99.99) from Yamaha. Includes a wide variety of 385 high-quality instrument voices,100 accompaniment styles, and digital effects. Education Suite makes practicing your favorite songs easier than ever before.
Portable Digital Recorder (SRSH1, $99.99) from Zoom. Zoom's smallest recorder is perfect for musical performances, songwriting sessions and rehearsals to seminars, conferences, journalism or capturing audio for video. Includes 2GB microSD card and one AA battery.
Cascio Interstate Music is a strong player in today's musical instruments retail industry, ranking in the top 12 nationally among music retailers, providing musical instruments and accessories to musicians of all ages, including music educators and music professionals worldwide. Cascio began in 1946 in West Milwaukee as a small teaching and accordion studio owned by Frank Cascio, the son of Italian immigrants. Today, over 75,000 musical products are marketed nationwide via catalogs and online, and locally at their SuperStore in New Berlin, Wisconsin. Cascio also carries their own company-designed brands of guitars, drums and band instruments – Archer, Union and Ravel – for consumers and schools.