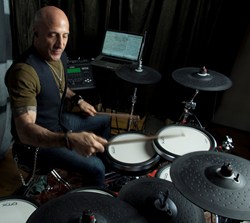 Kenny has performed and recorded with some of the world's greatest artists.
New Berlin, WI (PRWEB) August 14, 2013
Cascio Interstate Music SuperStore, 13819 West National Avenue in New Berlin, WI, presents legendary drummer Kenny Aronoff on Thursday, August 22 at 6:30 p.m. for an explosive free clinic featuring his unique playing style and technique, and Yamaha DTX digital drums.
Kenny has performed and recorded with some of the world's greatest artists including the Smashing Pumpkins, Bob Seger, John Fogerty, Melissa Etheridge, Jon Bon Jovi, Elton John, Bob Dylan, Rod Stewart, BoDeans, Alanis Morissette, the Rolling Stones and many more. Don't miss this rare opportunity to see one of the greatest drummers ever! Those planning to attend should arrive early for best possible seating and parking arrangements.
Yamaha's DTX series of electronic drums are created for all drummers with a passion to be the best that they can be. The realistic feel and rich expressive sound of these instruments are designed to take the drummer to even greater musical heights. A broad range of sounds from the essentials to effects allows drummers to have endless possibilities.
Cascio Intersate Music is a strong player in today's musical instruments retail industry, ranking in the top 12 nationally among music retailers, providing musical instruments and accessories to musicians of all ages, including music educators and music professionals worldwide. Cascio began in 1946 in West Milwaukee as a small teaching and accordion studio owned by Frank Cascio, the son of Italian immigrants. Today, over 75,000 musical products are marketed nationwide via catalogs and online, and locally at their SuperStore in New Berlin. Cascio also carries their own company-designed brands of guitars, drums and band instruments – Archer, Union and Ravel – for consumers and schools.
Cascio's involvement in the Milwaukee music community includes concert sponsorships at multiple area theaters and venues, the "Wild" drumline with the Milwaukee Bucks, guitar building workshops at Discovery World, and an original music stage at Milwaukee's Summerfest. Cascio has been chosen as "Milwaukee's Best Music Store" by readers of "The Shepherd Express" newspaper for the past eight years in a row. Please visit http://www.interstatemusic.com/.