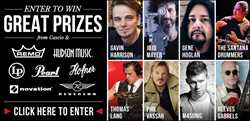 ... features products signed by various artists including a guitar, bass, and drum items ...
New Berlin, WI (PRWEB) January 30, 2015
Cascio Interstate Music is offering great prizes in its new musical instrument giveaway, and features products signed by various artists including a guitar, bass, and drum items. Enter to win at http://www.interstatemusic.com/Contests.aspx before July 31, 2015.
Electronic and Stringed Instrument Prizes:

Drum Prizes:
Win a Pearl Vision Snare Drum signed by Gene Hoglan. Known as "The Atomic Clock," Gene is an innovative metal drummer known for playing with precision, groove and flair with various groups like Fear Factory, Strapping Young Lad, Dethklok and others.
Win one of two Remo drumheads, one signed by Gavin Harrison (best known for his work with prog rockers Porcupine Tree) and the other signed by Thomas Lang (drumming superstar, composer, producer, author, educator, and stOrk).
Win a LP Micro Snare Drum, a compact drum that will add a fantastically loud and crisp shot to any set-up. This prize is signed by Raul Rekow (conguero for Carlos Santana's band from 1976 - 2013) and Karl Perazzo (timbale player for Santana's band since 1991).
Win JoJo Mayer's DVD, "Secret Weapons for the Modern Drummer-Part II, A Guide to Foot Technique" signed by JoJo himself. Swiss-born Mayer leads the live electronica trio Nerve and has the unique ability to play the rhythms of programmed jungle drum 'n' bass music on acoustic drums.
Cascio Interstate Music ranks in the top 20 nationally among musical instrument retailers as well as being one of the nation's top drum dealers. Cascio provides musical instruments and accessories to musicians of all ages, including music educators and music professionals worldwide. Cascio began in 1946 in West Milwaukee as a small teaching and accordion studio owned by Frank Cascio, the son of Italian immigrants.
Today, over 100,000 musical products are marketed nationwide via catalogs and online, and locally at their SuperStore in New Berlin, Wisconsin. For Wisconsin musicians, their Milwaukee music store offers private music lessons, free educational clinics, musical instrument rentals, musical instrument and electronic repair, and more. Cascio also manufacturers their own company-designed brands of guitars, drums and band instruments – Archer, Union and Ravel – for consumers, major online retailers and schools worldwide.