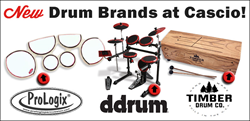 As we continue to find the right product mix, variety and focus, we have continued to add brands to our portfolio and 2014 is no exception.
New Berlin, WI (PRWEB) November 28, 2014
Cascio Interstate Music, the nation's 16th largest musical instrument retailer, expanded its brand offering in 2014 to include dozens of products that fit the lifestyles of musicians of different genres.
Michael Houser, Chief Executive Officer of Cascio Interstate Music, stated, "As we continue to find the right product mix, variety and focus, we have continued to add brands to our portfolio and 2014 is no exception. We have seen major impact with brands we've added as we continue to fine tune our selection to appeal to musicians, from beginner to pro."
Some of the new brands that Cascio Interstate offers online and at their Milwaukee music store, Cascio Interstate Music SuperStore, include:
Breedlove Guitars - Breedlove produces acoustic guitars, mandolins, basses, and ukuleles, and the company describes itself as "passionate and innovative builders of remarkable stringed instruments, spurred by our desire to challenge convention and build the instruments of tomorrow." Professional guitar players should consider Breedlove's Oregon D/SMYE Dreadnought Acoustic Guitar (GTSDSMYE), 100% hand crafted in Bend, Oregon USA using all solid tone woods sourced in the Pacific Northwest. Its powerful, clear tone makes it one of the best live playing guitars available giving an impressive balance, volume, and clarity (especially in the mid range).
Dean Guitars - Dean is committed to producing the finest guitars in the world, and their electric guitars, acoustic guitars, basses and other musical instruments are built following the highest standards in the industry. Dean's St. Augustine Series Dreadnought Guitar (GTSSADCBK) was inspired by the vast cultural history of America's oldest city, St. Augustine, Florida, and is an extremely affordable steel-string acoustic with a rich and rewarding sound.
Reverend Guitars - Reverend has grown from auspicious beginnings to become one of the fastest growing, and most respected US guitar companies today. The company enjoys worldwide acclaim, having established an extensive US and international dealer network, an enviable artist roster, and numerous industry awards. Reverend's Charger 290 Electric Guitar (GTSCH290TB) is fat, raw and bluesy but with just the right amount of bite to cut through. It has enough twang for country, but is thick enough for rock.
‪Loog‬ Guitars - Loog offers a unique, easy-to-play concept for the consumer to assemble their own 3-string guitar. Their LG02 (GTSLG02) features a Double Cutaway shape w/ 5-interchangeable pickguards, with low string action, specifically built for kids!
Luna Guitars - Luna manufactures instruments that are artistically designed, physically comfortable, affordably priced, and sound as good as they look. The MALU Maluhia Peace Mahogany Series Concert Ukulele (GTSUKEMALU) includes a laser etched "Peace" sign and the word in a multi-language continuum across the soundboard.
ddrum - ddrum has been the leading name in electronic drum triggers since 1983 and offers a range of drum products. The DD BETA Electronic Drum Kit (EDRDDBETA) offers a compact size, perfect for bedrooms and small apartments, with a module of 100 usable drum kit sounds and 32 pre-set kits.
ProLogix Percussion - ProLogix is the revolutionary practice pad manufacturer, having developed a full line of practice pads for beginners to professionals featuring innovative patented designs. The 13" David Ellis "Hybrid" Double Sided Practice Pad (PC103DEPAD) features a signature blue graphic playing surface with a hard rubber rim replicate an actual rim, while the back side of the pad features a mini quint tenor layout.
Hammerax - Hammerax is a small group of craftsmen headed by John Stannard, that produces hand hammered, stick-playable hybrid instruments, as well as cymbals, bells, FX and gongs. The Hammerax 11" Crash Course Layered Cymbal with a black finish has a triple layer stack, 3 independent layers that create a complex burst of midrange fury.
Timber Drum Co. - Timber handcrafts wood blocks, one at a time in the U.S.A., out of solid American hardwoods. Their Large American Hardwood Block w/ Mallet (PC104T4L) features a one-piece design that projects a focused tone, cutting through the other instruments.
Moog - Robert Moog's original company produced some of the most popular synthesizers of all time. Today's Moog gives you sounds not possible anywhere else. Moog's Theremini 12v Wavetable Synth (SYSTHEREMINI) is a re-imagination of one of the oldest electronic musical instruments in history – the theremin. It fuses the experience of performing with an instrument you don't actually touch, with a powerful sound engine derived from Moog's award winning synthesizer, Animoog.
Behringer - Behringer believes that the only way to ensure quality is to build products in their own factory and maintain the company's commitment to producing great-sounding, high-quality audio electronics for working musicians and audio engineers. Their EUROLIVE B210D (SRSB210D) is an Active 210-Watt 2-Way PA Speaker System that features a 10" Woofer in a ultra-compact and light weight system, delivering excellent sound even at extreme sound pressure levels.
Cascio Interstate Music is a strong player in today's musical instruments industry, ranking in the top 20 nationally among music retailers, providing musical instruments and accessories to musicians of all ages, including music educators and music professionals worldwide. Cascio began in 1946 in West Milwaukee as a small teaching and accordion studio owned by Frank Cascio, the son of Italian immigrants. Today, over 100,000 musical products are marketed nationwide via catalogs and online, and locally at their SuperStore in New Berlin, Wisconsin. Cascio also carries their own company-designed brands of guitars, drums and band instruments – Archer, Union and Ravel – for consumers, major retailers and schools worldwide.