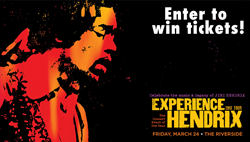 ... Cascio Interstate Music's latest concert ticket giveaway is for seven upcoming 2017 shows at three different venues ...
(PRWEB) November 30, 2016
Milwaukee music store Cascio Interstate Music's latest concert ticket giveaway is for seven upcoming 2017 shows at three different venues – The Weill Center in Sheboygan, The Riverside Theater in Milwaukee, and the South Milwaukee Performing Arts Center. Enter online for your chance to win tickets!

No Quarter is Milwaukee's premier Led Zeppelin tribute band. Since 2008 the band has been specializing entirely on the many unique facets of Led Zeppelin from each and every recorded song to the many phases of Zep's live repertoire. Contest expires January 1, 2017.
Long known as one of the best live acts in the business, BoDeans continue to tour year round and continue to deliver amazing, high-energy performances. Chart topping songs like "Fadeaway," "Only Love," and "Dreams" won them Rolling Stone's reader's poll for Best New American Band in 1987. Contest expires February 19, 2017.
Some of the greatest living guitarists play the music of Jimi Hendrix, together, live on the Riverside stage led by original Hendrix bass player Billy Cox. Contest expires March 12, 2017.
Blue Öyster Cult at the Weill Center, Saturday, March 18 @ 7:30 pm
For more than four decades, Blue Öyster Cult has thrilled fans of intelligent hard rock worldwide with powerful albums loaded with classic songs. BÖC's canon includes three stone-cold classic songs, from three memorable albums, that will waft through the cosmos long after the sun has burned out. Contest expires March 5, 2017.
Alan Lomax was an American field collector of folk music of the 20th century. The Lomax Project brings together some of the world's top folk musicians to recycle, re-imagine and recast traditional music. Led by two-time Juno-winning banjoist and composer Jayme Stone, the repertoire includes Bahamian sea chanties, African-American a cappella, ancient Appalachian ballads, fiddle tunes and work songs from sea captains, cowhands, and homemakers. Contest expires March 8, 2017.
Jimmy Webb - Glen Campbell Years at the Weill Center, Saturday April 1 @ 7:30 pm
Songwriter Jimmy Webb has had many chart topping hits, spanning a wide variety of musical genres. But perhaps Webb's most enduring legacy is his musical partnership with Glen Campbell. The two musicians worked on over one hundred recordings together beginning with "By the Time I Get to Phoenix" which won two Grammy awards. This will be a great tribute to Glen Campbell and a wonderful evening at the Weill Center. Contest expires March 22, 2017.
Taylor, Chapin & EVA at the Weill Center, Sunday, April 9 @ 2pm
Livingston Taylor, Tom Chapin, and EVA will appear together in a very special concert featuring some of the best in folk music. Livingston Taylor has had a 40-year career spanning performance, songwriting and teaching and is the fourth child in a very musical family which includes his brother James Taylor. In a career that spans five decades, 23 albums and three GRAMMY awards, multi-talented singer/songwriter/guitarist Tom Chapin has covered an incredible amount of creative ground. EVA is Liz Simmons, Nicole Zuraitis (USA), Kath Buckell (AUS), with Hadar Noiberg (ISR) and Craig Akin (USA). EVA blends stunning renditions of traditional and contemporary original folk music and elements of improvisation from each of their cultures. Contest expires March 26, 2017.
Cascio Interstate Music ranks in the top 15 nationally among musical instrument retailers, and is also one of the nation's top drum retailers. As the Company moves into its 70th year in the Music Industry, Cascio continues to evolve as an omni-channel musical retailer, in an effort to satisfy all its customers expanding and changing needs both now and in the future.
The Company markets over 75,000 musical instruments and accessories to musicians of all ages in a number of ways including via their website, http://www.interstatemusic.com, and through their SuperStore, located in the Milwaukee suburb of New Berlin, Wisconsin, as well as their musician-staffed information center at (800) 462-2263. Cascio also provides products to music educators at over 100,000 schools and universities worldwide. The Company started in 1946 in Milwaukee, Wisconsin and proudly remains independently owned, operated and run by musicians.