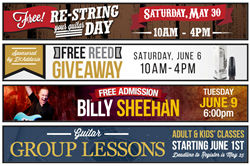 Cascio Interstate Music SuperStore ... has some great upcoming events planned for the next several weeks.
New Berlin, WI (PRWEB) May 22, 2015
Cascio Interstate Music SuperStore, 13819 W. National Avenue in the Milwaukee suburb of New Berlin, Wisconsin, has some great upcoming events planned for the next several weeks. Milwaukee musicians from young to old can participate in a variety of opportunities at the New Berlin music store.

Cascio will present "Restring Your Guitar Day" on Saturday, May 30 from 10am - 4pm. Replacing old, worn out strings on your guitar will make it easier to tune, just like a brand new model! Sponsored by D'Addario Strings, Cascio's professional staff will restring acoustic and electric guitars at no charge, limited to one per family. (Excludes bass, 12-string and nylon string instruments. While supplies last.)
On Saturday, June 6, Cascio will present a "Free Reed Giveaway" from 10am - 4pm, sponsored by D'Addario Woodwinds and Rico Reeds. Stop in to the store and get a complimentary reed for the woodwind instrument of your choice, limit one per family. (Excludes double reeds that are used for oboe, bassoon or sarrusophone.) D'Addario is also offering customers a chance to test out their new Select Jazz alto saxophone mouthpieces.
Iconic Bassist Billy Sheehan will visit Cascio Interstate on Tuesday, June 9 to present a Bass Guitar Clinic starting at 6 pm, sponsored by Yamaha. Learn tips and techniques from Sheehan, who changed the way bass guitar is played. Rising to cult status in the 80's with his Buffalo, NY based band Talas, Billy was recruited by David Lee Roth when Roth left Van Halen in 1985. He recorded two platinum selling albums with the former Van Halen front man before setting out on his own. Forming Mr. Big in 1989, the band achieved a Billboard #1 single in the US and 14 other countries with "To Be With You" from their 2nd Atlantic Records album release "Lean Into It." While developing his trademark style of playing he has performed over 4,000 live gigs on every continent except Africa and Antarctica.
On Monday evenings throughout the month of June, Cascio will present Group Guitar Lessons with instructor Dan Johnston. Two courses are offered, with 5 classes each: Beginning Guitar Course for Kids (18 & under) held from 6:15 pm - 7pm on June 1st, 8th, 15th, 22nd and 29th; and Beginning Guitar Course for Adults (18 & over) held from 7:15 pm - 8pm on those same Monday nights in June. Price is $90 for either course's 5-class session. Please register before May 29 with Rachel Repetti at (262) 439-5801, via email rrepetti(at)interstatemusic(dot)com, or stop into the store in New Berlin at the customer service counter.
Cascio Interstate Music ranks in the top 15 nationally among musical instrument retailers as well as being one of the nation's top drum retailers. Cascio provides musical instruments and accessories to musicians of all ages, including music educators at over 100,000 schools and universities, as well as music professionals worldwide. The Company started in 1946 in Milwaukee, Wisconsin and proudly remains independently owned, operated and run by musicians.
Over 100,000 musical products are marketed nationwide via catalogs and online, and locally at their SuperStore in New Berlin, Wisconsin. For Wisconsin musicians, their suburban Milwaukee music store offers private music lessons, free educational clinics, musical instrument rentals, musical instrument and electronic repair, and more. Cascio designs, markets and manufactures proprietary brand musical instruments including Union Drums, Archer Guitars, Ravel Band Instruments and Melokia Ukuleles for consumers, the nations's leading eCommerce retailers, and schools worldwide. Read more at http://www.interstatemusic.com.