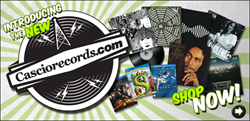 We have over 900,000 items on our new site and our primary focus is on Vinyl Records.
New Berlin, Wisconsin (PRWEB) June 26, 2015
Nationwide musical instrumental retailer Cascio Interstate Music has launched Cascio Records at http://www.casciorecords.com. The new site offers Vinyl Records, DVDs, Blu-rays and CDs across all genres of music.
"Casciorecords.com is our natural progression into satisfying our 'music-based' customers," states Michael Houser, CEO of Cascio Interstate Music. "We have over 900,000 items on our new site and our primary focus is on Vinyl Records."
According to Nielsen Soundscan, vinyl album sales in 2014 reached 9.2 million units, a substantial increase over 6.1 million sold in 2013. Vinyl sales between January and March of 2015 were 53 percent higher than the same time period in 2014.
Houser adds, "The vinyl industry has continued to grow significantly and steadily over the past 5 years, and our musician customers are very tuned into this trend and the audiophile quality of many of these recordings. Our customers can now look to us to provide a wide selection of vinyl and other formats for their listening and viewing pleasure."
To celebrate the new site, Cascio Interstate Music is offering a giveaway of Sam Smith's "In the Lonely Hour" Vinyl LP, which won "Best Pop Vocal Album" at the 57th Grammy Awards in 2015. Customers can stay up-to-date with Cascio Records at their Facebook Page.
Cascio Interstate Music ranks in the top 15 nationally among musical instrument retailers as well as being one of the nation's top drum retailers. Cascio provides musical instruments and accessories to musicians of all ages, including music educators at over 100,000 schools and universities, as well as music professionals worldwide. The Company started in 1946 in Milwaukee, Wisconsin and proudly remains independently owned, operated and run by musicians.
Over 100,000 musical products are marketed nationwide via catalogs and online, and locally at their SuperStore in New Berlin, Wisconsin. For Wisconsin musicians, their suburban Milwaukee music store offers private music lessons, free educational clinics, musical instrument rentals, musical instrument and electronic repair, and more. Cascio designs, markets and manufactures proprietary brand musical instruments including Union Drums, Archer Guitars, Ravel Band Instruments and Melokia Ukuleles for consumers, the nation's leading eCommerce retailers, and schools worldwide.