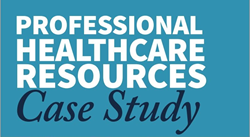 Infinit-O offers a consistently high quality and stable workforce and continues to be one of our most valued partnerships.
(PRWEB) March 12, 2015
Infinit Outsourcing (Infinit-O) recently released a case study called Professional Healthcare Resources Case Study: Healthcare Outsourcing - Operational Efficiencies and Cost Savings Result in Significant Improvement to Margins which is published on its healthcare subsidiary, Infinit Healthcare, website. This study was commissioned by Virginia-based independent home healthcare provider, Professional Healthcare Resources (PHR).
Initially a hospital staffing agency, PHR has since entered the Medicare home health and Medicaid-waiver home care programs as well as the hospice market. The company has now grown its network to seven locations serving the DC area.
Due to its organic and acquisition growth, PHR engaged Philippine-based outsourcing company, Infinit-O, to provide them with a customized offshore business process model that will optimize and increase efficiency across all their processes.
Infinit-O utilized a 5-step Recruitment Process to source and hire a top caliber, dedicated team for PHR at a lower cost. The company also utilized business controls as part of their ISO standards, as well as Performance Management strategies and application of Six Sigma methodologies, in order to guarantee continuous process improvement.
Due to this access to lower labor costs, PHR manpower requirements were met while at the same time reducing expenses on salaries and wages. This enabled PHR to achieve growth without sacrificing margins. The focus on process improvement has resulted to a range of savings year after year with a decrease in operating expenses by an average of 30 - 50%.
Additional results include shielding PHR from huge reductions in Medicare reimbursements, improvements in patient and employee satisfaction, acquisition of offsite business continuity option, increase in overall company valuation, as well as operational efficiencies in the areas of medical billing, information technology, and medical coding.
To download the Case Study, please click this link.
About Infinit-O
Infinit-O is an outsourcing company based in the Philippines that provides a wide variety of Business Process Outsourcing (BPO) and Knowledge Process Outsourcing (KPO) solutions. It recently has introduced Infinit Healthcare to exclusively offer Healthcare Information Management Outsourcing services to a global clientele. Infinit Healthcare has perfected its processes, therefore providing reliable and cost-effective healthcare services to clients made up of the following: Healthcare Payers, Healthcare Providers, Software-as-a-Service Companies, Pharmaceutical Companies.