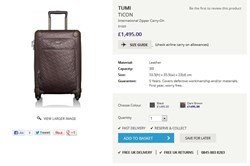 The Size Guide on our website eliminates all the uncertainty about the correct carry-on luggage requirements by the airlines.
London, UK (PRWEB UK) 11 October 2013
Are you confused by airline regulations for acceptable hand luggage sizes?
Are you unsure about which cases are allowed in the cabin on each flight?
If the answer is yes to either of these questions, then you are not alone.
With suitcase allowances constantly shrinking - and the airlines' parameters forever changing - it's hardly surprising that there is so much uncertainty and confusion about sizing and dimensions amongst the travelling public.
Now Case Luggage, the UK's leading premium luggage retailer, has come to the rescue of the frequent flyer with 'Size Guide', a unique facility on the company's website to guide you through the maze of regulations regarding acceptable dimensions for carry-on cabin luggage.
In addition to full product & price details, adjacent to every piece of carry-on luggage available online at http://www.caseluggage.com is the aeroplane 'Size Guide' icon. By clicking on the icon, a comprehensive list of size & weight allowances for carry-on luggage on over 45 different airlines – both UK & international - will automatically appear.
As the UK's leading travel goods retailer, Case Luggage offers a tantalising choice of luggage brands for the discerning traveller, including Tumi, Samsonite, Bric's, Mandarina Duck and Knomo. The Case website at http://www.caseluggage.com is home to over 40 different brands, all of which are available to purchase either online with free delivery via the useful 'Reserve & Collect' option, or in-store at a Case Luggage standalone store or concession.
Comments Case Luggage CEO Stephen Spitz: "The Size Guide on our website eliminates all the uncertainty about the correct carry-on luggage requirements by the airlines. As far as we know, it's the only facility of its kind for airline passengers and as it's revised regularly, it's always up-to-date. This is an easy and convenient way of helping our customers make the right purchasing decisions when choosing their new luggage items from Case."
Note to Editors:
Case Luggage is the leading retailer of premium travel goods in the UK. Established in 1923, the company celebrates 90 years in business this year. Case operates the largest travel goods department in the world at Harrods in Knightsbridge, the Tumi store in Mayfair, London and concessions in Selfridges, Harvey Nichols & Gatwick airports, as well as Hoopers in Tunbridge Wells and standalone stores in Guildford & Bluewater. Premium brands sold by Case include Tumi, Bric's, Victorinox & Samsonite. http://www.caseluggage.com