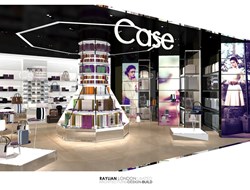 Our aim is to create a completely different kind of luggage store.
(PRWEB UK) 24 January 2014
When completed, the new Case standalone store at T2 will stock a tantalising selection of premium brands for luggage, leather goods, travel accessories and travel gadgets: everything a discerning traveller could possibly need or want to enhance their journey.
Heathrow challenged retailers bidding for a place in Terminal 2 to create a flexible retail offer through digital technology. The central feature of the shop will be a 'lighthouse' structure with full height LCD monitors that can be programmed to show synchronised and independent visuals to full effect. This completely new design concept (as shown on these artists' impressions) was designed by Raylian Design and has been developed around the variety and flexibility of multi-channel retailing.
Comments Stephen Spitz, CEO and chairman of Case: "Our aim is to create a completely different kind of luggage store. The environment will be totally interactive and technologically advanced and will offer a wide range of luggage and travel accessories from many of the world's top brands, including Tumi and Rimowa. In addition, there will be a number of exclusive lines on display at the new store so well worth stopping for a browse en route to your destination."
Adds Nic Crossick, Group Sales & Marketing Director at Case: "We are proud to be showcasing this exciting concept store in the brand new Terminal of the UK's main London airport. This store will set a new standard for our category."