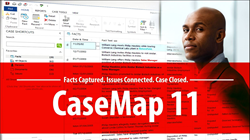 This award is validation that we are creating tools that help our customers manage their cases more effectively and more efficiently.
Raleigh, NC (PRWEB) April 08, 2015
LexisNexis® Legal & Professional today announced that two products in the award-winning LexisNexis CaseMap® suite of litigation support software tools were each awarded a first-place status in the 2015 "Best of The National Law Journal" report, the fourth annual reader's choice rankings of the nation's top legal vendors and law schools.
The CaseMap solution, the flagship litigation management product in the CaseMap suite, claimed first place status in the "matter management system" category for the third consecutive year. At the same time, the LexisNexis TextMap® App for Apple® iPad® took first place in the "trial preparation iPad application" category.
"This recognition is especially noteworthy because it comes directly from the end users of our software tools," said Steve Ashbacher, vice president of litigation solutions, part of the LexisNexis software division. "We have made significant investments to improve the customer experience with our products so they are easier to use and put to work; it is validation that we are creating tools that help our customers manage their cases more effectively and more efficiently."
"Best of The National Law Journal" product rankings ask readers to cast votes for vendors in various categories for the best providers of services, products or education to U.S. law firms. For each category, the winners were ranked by popularity among peers – the choice with the most votes won.
The CaseMap software helps litigation teams bring together the relevant facts, documents, cast of characters and issues of each case – as well as legal and investigative research – into a centralized repository for improved case assessment. This allows users to maximize case knowledge, see connections they might otherwise miss and better collaborate with their colleagues on a matter.
Earlier this year, LexisNexis introduced version 11 of the CaseMap solution, with various product updates and a modernized user interface in the familiar look and style of the Microsoft® Office 2013 productivity suite.
The TextMap transcript management software enables attorneys to review and annotate transcripts from depositions or other litigation proceedings on their computer. The TextMap app for iPad makes the transcript review process even more efficient by delivering anywhere and anytime access on the leading tablet device for lawyers. Version 8 of the TextMap solution was just released and testing indicates the average number of clicks to carry out nine of the most common functions decreased by 36%, which saves time.
From data technology products and banking services to law firm marketing and legal research, the "Best of The National Law Journal" rankings showcases the top vendors and law schools, providing lawyers and legal professionals with insights into the preferred providers in today's legal market. To view the special report, please go to http://www.nlj.com.
About LexisNexis Legal & Professional:
LexisNexis Legal & Professional is a leading global provider of content and technology solutions that enable professionals in legal, corporate, tax, government, academic and non-profit organizations to make informed decisions and achieve better business outcomes. As a digital pioneer, the company was the first to bring legal and business information online with its Lexis® and Nexis® services. Today, LexisNexis Legal & Professional harnesses leading-edge technology and world-class content to help professionals work in faster, easier and more effective ways. Through close collaboration with its customers, the company ensures organizations can leverage its solutions to reduce risk, improve productivity, increase profitability and grow their business. LexisNexis Legal & Professional, which serves customers in more than 175 countries with 10,000 employees worldwide, is part of RELX Group plc, a world-leading provider of information solutions for professional customers across industries.
LexisNexis helps its clients gain increased control of their litigation workflow with flexible, integrated solutions for early data assessment, processing, review and seamless chain of custody. LexisNexis® Early DataAnalyzer, LAW PreDiscovery™, Concordance®, Concordance® Evolution, CaseMap®, TextMap® and Sanction® are the only solutions on the market that work together for complete support of litigation management and can be offered in a hosted environment for the flexibility and support any case demands.
# # #